Discover Sousse by Hire Car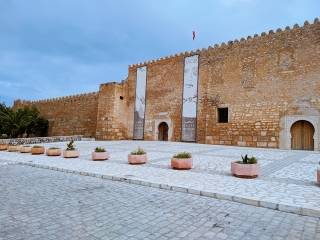 The governorate city of Sousse, 140 km from Tunis, is considered the third largest city in Tunisia after Sfax, with a population of about 500,000.
Despite large numbers of tourists in this region, the city has retained its Arab appearance with its beautiful medina.
The prices in the medina, however, may no longer be in line with the national average due to the large number of affluent shoppers. Taxi drivers in Sousse are also hard pressed to adjust their meters.
Sights in Sousse
Despite this, don't let a visit to this pearl of the Sahel, originally founded by the Phoenicians in the 9th century BC, spoil your visit and, if need be, it's cheaper to get around town by hire car than by taxi.
Sousse's bustling centre of life is Place Ferhat Hached, with its statue of Habib Bourguiba, erected in 1978. Quite unusually by European standards, the railway crosses this square.
In the surrounding area and in the Avenue Habib Bourguiba you will find all the important facilities: Banks, pharmacies, tourist information, hire car offices, post office, bookstores, restaurants and cafes.
Exploring the surroundings of Sousse

A trip with a hire car is always worthwhile in Sousse. 7 km south of the centre of Sousse, the Route Touristique branches off to the sea behind the large electricity plant.
After 1 km, the hotel zone then begins with an extensive range of leisure and recreational facilities to meet tourists' wishes.
As a major city, Sousse is of course very well connected to the Tunisian transport network. Thus, on the way Monastir, it also has the first international airport south of Tunis.
hire car price comparison Sousse