Discover Fuerteventura by hire car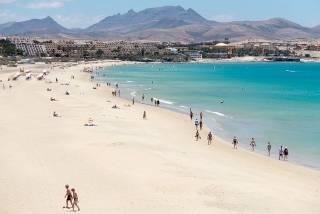 Kilometres of sandy beaches, picturesque dunes, rugged volcanic mountains and an excellent tourist infrastructure make Fuerteventura a holiday paradise par excellence.
Many holidaymakers spend the best weeks of the year there only on the beach and in the hotel.
They miss a lot, because on Fuerteventura there are numerous worthwhile place to discover. The best way to do this is by hire car. For rental and travel we have compiled a few tips.
Receiving the hire car
Numerous hire car companies have their stations directly in the terminal. However, there are also rental companies whose offices are only located near the airport. If you book there, you sometimes have to wait a long time for a shuttle and lose precious holiday time.
Booking the right hire car
If you want to travel the interior of the island with its sometimes unpaved roads, we recommend a vehicle with four-wheel drive. However, if you only want to drive on the paved roads along the coast, a normal car will suffice.
Since you will rarely travel long distances in Fuerteventura, you can also consider renting a convertible to enjoy the sun to the fullest.
Insuring the car properly
It's easy to have a minor accident, especially in rough mountain terrain. Protect yourself and book a fully comprehensive insurance without deductible. When it comes to liability, you should definitely pay attention to the amount of coverage.
It should be at least one million euros. If the amount of coverage of your lender seems too low, a so-called Mallorca policy provides additional protection. Get advice from your insurance company.
Hire car prices
Out of season, you can rent a light car on Fuerteventura at very reasonable rates. Then, when the crowds of tourists flock to the island in winter and summer, the prices can rise tremendously. You will usually get the cheapest deal if you use our price comparison and book the car well in advance of your holiday.
hire car price comparison Fuerteventura
age limit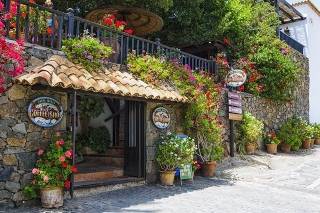 If you are under 21 years old, hardly any rental company on Fuerteventura will rent you a car. And drivers under the age of 25 often have to pay an extra fee.
And also seniors should have a close look at the conditions of the rental companies. Often, cars are not rented to drivers who are over 75 years old.
Accessories
Accessories, such as a navigation device or a child seat, must always be booked separately. Reserve in good time so that the desired items are actually available.
Tank control
On Fuerteventura there are rental companies that hand over the car only with a partially filled tank. In this case, you should have the fill level confirmed in writing.
Then you can return the car with the same tank level again. Some rental companies, also sell a full tank for a service fee. The driver can then return the car with an empty tank.
Since you will not succeed in driving the car completely empty, you should rather book with another rental company. The most transparent solution is still if you take the car with a full tank and return it with a full tank.
Language barrier
Not all staff at hire car stations speak English flawlessly. In case of misunderstandings, it can be helpful if you have written down the phone number of the Spanish head office of your rental company. There you can ask for help in case of emergency.
Free kilometers
Before renting a car, think about the destinations on the island you want to travel and the distances to be covered. You may find it more convenient to hire car with limited kilometres.
Customer Review Hire Car
Most of our customers are very satisfied with their hire car in Fuerteventura. Nevertheless, you should read the customer reviews on our portal before booking in order not to end up with a rental company where everything does not run smoothly.
Safety rental vehicles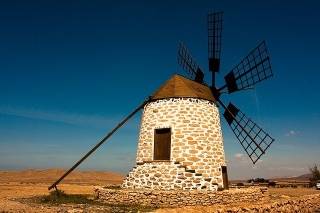 Mostly the hire cars in Fuerteventura are absolutely roadworthy.
Nevertheless, check the lights before your first drive and do a brake test while still in the parking lot.
Suggestion of a round trip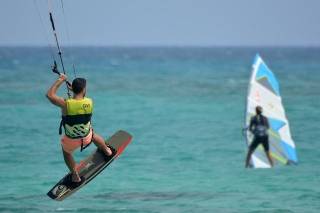 Antigua: Handicrafts at the mill
Antigua is the largest town off the coast and a worthwhile first stop on the round trip. It will take you less than half an hour from the airport in your hire car.
In Antigua, you can start your tour at the El Molino de Antigua windmill.
Inside the mill you will find a pretty arts and crafts museum. And in the attached shop you can buy original handicrafts as souvenirs.
After the visit, you will then have the opportunity to stroll through the park of the village, where you can admire dragon trees and cacti.
La Ampuyente: Impressive paintings
Next stop on the drive could be La Ampuyenta. In ten minutes, you will be there. In La Ampuyenta, the parish church Ermita de San Pedro de Alcántara awaits you. Inside the church you will find fantastic paintings from the 18th
century.
Century, depicting scenes from the life of San Pedro de Alcántara. If the church is locked, just ask the friendly local residents if someone can unlock it for you.
Mirador de Morro Velosa: Best view
Continue your journey to the Mirador de Morro Velosa. Again, you only have to drive 15 minutes by hire car. The Mirador de Morro Velosa is an exhibition center where you can learn a lot about the landscape of the island. First and foremost, however, the view is worthwhile here, as the Mirador stands on the 645-metre-high Tegú.
Puertito de los Molinos: Beautiful nature and good fish
Back to the sea, the journey continues as you now head for Puertito de los Molinos. Less than half an hour's drive separates you from this place.
Nearby you will find the nature reserve Parque Rurál Betancuria where you can go for long hikes in a picturesque landscape. In the fishing village Puertito de los Molinos you can then relax and enjoy the best fish dishes in the small restaurant.
conclusion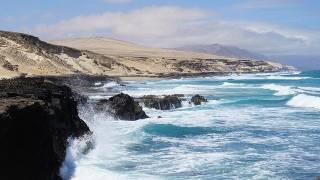 Fuerteventura is excellent to explore by hire car. The distances are short and the roads are mostly well developed.
With our practical price comparison you will always find a cheap offer, so you can enjoy your trip carefree.