Breakdown with the hire car: Everything is not so bad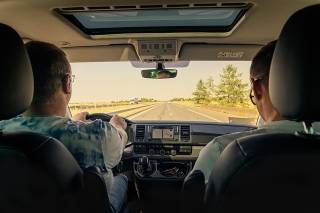 Even a hire car breaks down sometimes. And usually the tenant is then much more helpless than if the breakdown had happened with your own car. After all, you often know your own car for years and have a rough idea what could be missing from the vehicle.
With a hire car, on the other hand, you're happy to deal with a completely unfamiliar model that you've never driven. The error messages are confusing and you can't quite place the noises coming from the engine compartment either.
However, don't panic: If you follow our rules, breaking down with a hire car can be more relaxing than driving your own vehicle.
Securing the breakdown site
If you break down with your car, you must first secure the accident site for your own safety and that of other road users. To do this, first switch on your hazard lights. To make sure you find the button right away, they should study your car's owner's manual carefully before driving it for the first time.
Note distance
Next, you need to place the warning triangle at the side of the road. According to German law, it must be 50 meters behind the vehicle in urban traffic. On rural roads, 100 metres is mandatory and on motorways there should be a distance of 200 metres.
In other countries, there are often different rules. Inform them before the journey about the legal situation.
Put on warning vest
Remember to put on your high-visibility vest before leaving the vehicle. By doing so, you are keeping yourself safe. In addition, putting on a high-visibility vest is a legal requirement in many countries.
It's best to check that you have a high-visibility vest and warning triangle as well as a first-aid kit and spare wheel on board before your first journey. Then you still have the opportunity to complain about missing items to your rental company.
Contact the landlord
Most rental companies have their own breakdown service, often called a "breakdown service". The phone number is either stuck prominently on your windscreen or in your glove box, or can be found in your rental agreement.
The breakdown service staff will help you quickly and without fuss.
Mechanic usually provides remedy
Most of the time, a mechanic will be sent over first to try to fix the damage. If that fails, you may be provided with a replacement vehicle.
The broken down car will be towed and you will be chauffeured to the nearest rental station. In most cases, this is quicker than if they broke down with their own vehicle. If there is no breakdown service, simply call your rental station. The staff will take care of the next steps.
Do not search for a workshop independently
To avoid being held liable for damage caused by improper repairs, never seek a repair shop on your own. Always let the rental company do it.
Don't wait too long
If you hear a warning sound in your hire car, you should immediately pull over and contact the rental company or roadside assistance. Indeed, if you ignore warning sounds you will be liable for any damage caused to the vehicle as a result.
Get Breakdown Confirmed
To avoid being held liable for the damage to your car afterwards, you should have the rental company confirm that it was not you who caused the breakdown.
Checklist Breakdown for Hire Car
Switch on hazard warning lights
Donning a safety vest
Secure the scene of the breakdown
Inform the rental company
Confirm the cause of the breakdown
hire car price comparison