Discover Ouarzazate by Hire Car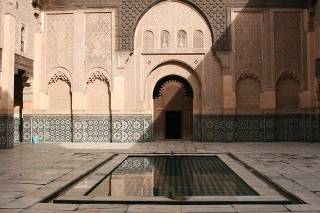 The Moroccan city of Quarzazate is a typical image of North African cities located in the dreary and arid interior.
Situated in a valley between the different mountains in Morocco, Quarzazate is considered a good starting point into the North African mountains.
While the mountains are not provided with as many numerous refuges as is the case in the Alps, it is still possible to organise some interesting routes that even include ski runs in the winter months. However, one has to accept limitations when it comes to the comfort and quality of the huts.
Sights in Ouarzazate
Ouarzazate as a former caravan town and base of the French Foreign Legion, has quite a few sights to offer.
The Kasbah (Arab fortress) in particular is extremely imposing and was one of the country's many royal palaces in the Middle Ages. Much of the magnificent buildings have been made accessible in recent years, so on a guided tour you will learn a lot about the history of Ouarzazate.
Also some French remains are still present, so can be seen in an exhibition armaments of the Foreign Legion. Just outside the town area, you'll find filming sites that have served as locations for many world-famous movies.
Exploring the countryside of Ouarzazate
Trips with a hire car in the surroundings of Ouarzazate offer themselves. Desert tours through them Sahara or along a dry wadi, are more than delightful.
Tours in the region of Ouarzazate consist, for example, of a visit to the oasis of Zagora or the Malian city of Timbuktu, which was once one of the main transfer points for slaves.
hire car price comparison Ouarzazate