Discover Cape Town by Hire Car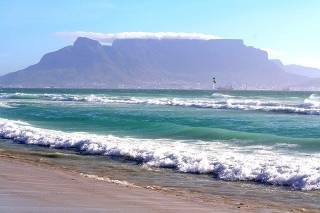 Cape Town, affectionately known as the "Mother City" by its residents, has emerged over the past two decades as one of the world's most beautiful metropolises.
The fascinating location at the foot of Table Mountain, the city's famous landmark, in the sheltered Cape Bay, impresses every visitor from the start.
In this melting pot of cultures, modern life pulses with tradition and history like nowhere else in the world. In Cape Town, it becomes clear why South Africa also bears the nickname " Rainbow Nation ". We have put together a few tips for your trip by hire car.
Taking over the hire car
Directly at Cape Town Airport you will find the rental stations of all major hire car companies. The hire car building is located directly opposite the terminal.
Despite this, to be on the safe side, you should inquire whether your rental company is also located in the airport. There are also providers whose station is only near the terminal. Then you have to wait for the shuttle that takes you there. So you lose valuable vacation time.
Booking the right hire car
It all depends on your needs as to which hire car is best for you to drive in Cape Town. However, as the road network is quite well developed, you may well book a larger and more comfortable car.
There is left-hand traffic in South Africa. Therefore, it is advisable to take an automatic car to avoid having to change gears with your left hand. For more tips on driving a car while driving on the left, click here.
Hire car prices
For the most part, getting a cheap hire car in Cape Town is not a problem. However, on rare occasions, there can be shortages, which can drive up the prices. We recommend booking your hire car well in advance of your trip to get the best deals.
Cape Town Hire Car Price Comparison
Insurance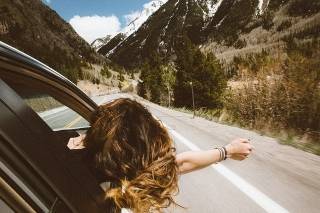 The risk of accidents is higher due to the unfamiliar left-hand traffic. Therefore, make sure you take out comprehensive insurance without an excess.
If you cause personal injury with your hire car, it can quickly become really expensive.
Make sure you pay attention to the coverage of your liability insurance and, if in doubt, take out additional insurance, a so-called "traveller policy". You can find more information on the subject here.
Language difficulties
English is spoken well everywhere in South Africa, so you should not expect any language difficulties. However, you may find that some road signs are written in Afrikaans. "Linkerbaan" means "left lane", for example
Dreamy beaches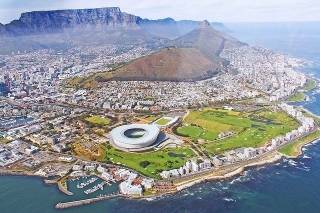 The dreamy beaches around Cape Town are best reached by hire car.
A true "Miami Beach feeling" can be experienced by driving along the beach promenade of Camps Bay, a posh suburb of Cape Town, where stars and starlets prefer to cavort.
You might meet them again on Chapman's Peak Drive, one of the most beautiful coastal roads in the world.
This is where commercials and movie scenes are filmed against a spectacular panorama, and the views are fantastic, offering stunning photo opportunities.
Destinations by hire car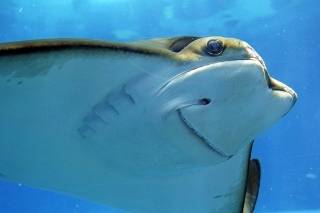 With a hire car, day trips to the Cape of Good Hope or the wine-growing areas around Stellenbosch and Paarl are wonderful destinations and beautiful experiences.
Suggestion for a round trip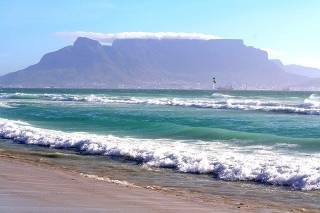 Cape of Good Hope: Meeting Point of the Oceans
Start your trip at the Cape of Good Hope. It's where the Indian and Atlantic Oceans meet.
You can reach the Cape in about an hour and a half by hire car. From the cliff you can enjoy a fantastic view. The only thing you should be wary of are the monkeys that live there.
They are more than tame and will do anything to get food. Don't try to mess with the monkeys. Many are quite aggressive.
Boulders: Tracking the Jackass Penguins
In just over half an hour you will reach Foxy Beach. There you have the opportunity to observe a colony of spectacled penguins. Almost 3,000 of the animals live in the area and are happy to pose as photo models for tourists.
Fish Hoek: Relaxation in beautiful nature
Before you steer the hire car back to Cape Town, you can make one more stop in Fishhoek.
There you can either relax on one of the wide beaches or take a walk through the charming landscape on the well-developed hiking trails.