Exploring Tunisia by Hire Car

Tunisia is a magical travel destination. Especially in the south and in the middle of the country they enjoy a breathtaking landscape, at the same time the resorts on the Mediterranean invite you to swim and relax.
Dried up salt lakes, thermal springs, vast desert landscapes – with a hire car they can discover many worlds here.
For rental and travel, we have compiled a few tips.
Taking over the hire car
Most travellers arrive in Tunisia via Tunis, Djerba or Monastir airports. In Tunis and Monastir, numerous hire car companies can be found directly in the arrival terminal.
Also in Tunis, you will find many rental companies right at the airport. Make sure, however, that your rental company has its station directly at or in the terminal. If it is only near the airport, it can take a long time until a shuttle takes you there.
Choosing the right hire car
Even if you want to be on the partly unpaved roads in the interior, you should reach for a four-wheel drive vehicle. On the normal roads of Tunisia, you will also make good progress with a normal vehicle.
From May at the latest, you should definitely make sure to book a car with air conditioning. Because then it often becomes unbearably hot in Tunisia.
hire car price comparison
age limit

You have to be at least 22 years old to hire car from most rental companies in Tunisia. And seniors over the age of 75 are also unable to get a car in many cases.
Study your rental company's terms and conditions before booking your hire car.
Accessories
Accessories such as a navigation device or child seat should definitely be reserved in Tunisia when you book your hire car.
This is the only way to ensure that the items you want will be available with your rental company on the day of your rental.
Language barrier
You should be prepared to get by much better in Tunisia with French than with English. If your rental company has a head office in Tunisia, it may be helpful to make a note of their telephone number. You can then call them to ask for translation help if necessary.
Free kilometers
Even though Tunisia is quite a small country, you will still cover a lot of kilometers in a hire car to discover its charms. Therefore, you'd better book a car with all the kilometres free.
Tank control
Regularly, disputes arise in Tunisia because there is disagreement about the correct level of the tank. The reason: many rental companies hand over the car with a half-full tank and expect the car to be returned with exactly the same level.
It is better to book with a rental company where you take over the car with a full tank and return it with a full tank. This is the most transparent solution.
Bail
Only book with a landlord who only blocks the deposit on your credit card and does not collect it. This is because in the latter case, it may take longer to get the money back in your account.
Travel time
The best time to travel to Tunisia is considered to be May to September due to the low chance of rain. In the other months, it rains on average 9 to 12 days.
Daytime temperatures are in the double digits all year round, rising to 30 degrees from June to September. Water temperature varies from 14 degrees in winter to 24 degrees in summer.
Honking is part of it
Driving a car in Tunisia is a bit of an adventure. Basically, the same traffic rules apply as here, but the locals rarely follow them.
So if you don't strictly insist on your rights in the German manner, you'll have a lot of fun driving and especially honking your horn with a hire car in Tunisia.
Road conditions
The roads in Tunisia are mostly in passable condition. However, you should always be prepared for individual, even deep potholes. In remote areas, encounters with wildlife are part of the daily routine of the frequent driver.
In general, a lot of caution is recommended, especially in the dark. The locals sometimes move around in poorly or completely unlit vehicles such as donkey carts or rickshaws. Night travel should therefore be avoided if at all possible.
Fuel, tolls and parking
Fuel stations, which can actually be found in every major town, are often only open during the day. There are tolls on the two motorways, but the tolls alone, which are low by European standards, do not justify a detour along the country roads. Also manageable, but very worthwhile in Tunisian cities are the expenses for guarded parking.
Police checks
Tourists are usually only given warnings for speeding in Tunisia. Common checkpoints are the roundabouts in the cities.
Talking on the phone while driving without a hands-free device, however, is often punished severely. The zero alcohol limit is also taken very strictly. In general, the following speed limits apply in Tunisia: inside built-up areas 50 km/h, outside 90 km/h, on motorways and expressways 110 km/h.
Traffic rules Tunisia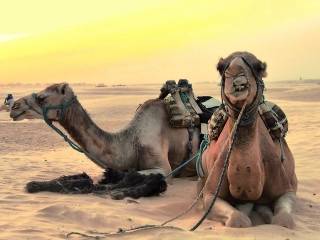 General:
Tunisia's road network totals 29,000 route kilometres, of which about 60 percent is paved.
Often the secondary roads are in poor condition and local drivers don't always take traffic rules too seriously.
It's right-before-left at roundabouts, too. A red and white curb means parking is prohibited there.
Driving licence:
An international driving licence is required in Tunisia.
Promille limit:
The 0.0 promille limit applies.
Fine:
Alcohol driving: 51 – 2,520 euros and it threatens one to six months in prison. In the event of an accident, the fine can even be up to 3013 euros, with the threat of imprisonment of one to four years.
Exceeding the speed limit: between 61 – 200 euros. In addition, a driving ban of one to six months.
The phone in the car is only allowed with a hands-free device.
Other:
Similar traffic rules apply as in Europe. The speed limits are 50 km/h in cities. Outside built-up areas, 90 km/h is allowed, and 110 km/h on expressways and highways.
Suggestion of a round trip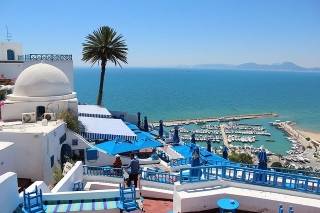 Matmata: Admire Berber cave houses
A round trip by hire car could begin in Matmata.
From Djerba you will need a driving time of about three hours during which you can enjoy the barren desert landscape.
In Mahatmata you will find a village of Berbers who once chose a very unique form of house design.
They did not build above ground, but dug their dwellings deep into the rock. This served both as protection from heat and from attackers. Today, most Berbers have left the settlement and live in modern houses. The old dwellings now house small restaurants and simple hotels for tourists.
Gabès: Enjoying an oasis by the sea
Continue your journey to Gabès. In just over an hour, you will be there. In Gabès, you'll find an oasis that sits right by the sea. Lush sprawling plants in the oasis gardens make you forget that you are in the middle of the desert in this lively place. In Gabès, you can explore the bustling market and enjoy the scent of exotic spices.
Medenine: Experience contemporary Tunisia
Before steering the hire car back to Djerba, you can stop off in Medenine. The drive will take you a good hour. You will find few tourists in Medenine, as the town does not boast any attractions.
But there you will have the opportunity to study the daily life of Tunisians and perhaps taste typical dishes at a stall or restaurant, which you will be denied in the tourist strongholds. A drive of one and a half hours separates you from Djerba, where you can review the many impressions of your first round trip.
conclusion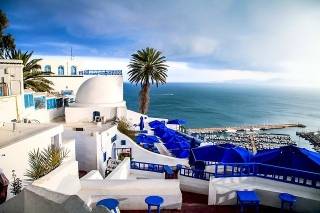 With a little spirit of adventure, Tunisia is easy to explore by hire car.
Most places can be reached without any problems and you will have adapted quickly to the sometimes unusual driving behaviour of the locals.
With our practical price comparison you will always find a suitable car at a reasonable price.