Discover Windhoek by Hire Car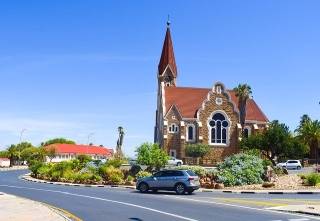 Windhoek is the largest city in Namibia and also the capital of the country.
What is striking about Windhoek is the cleanliness and order that seems to be everywhere, making the city look like it has been freshly cleaned.
The buildings in Windhoek offer an interesting contrast.Alongside numerous Wilhelminian buildings from the German colonial era, you will find modern and high-rise office buildings.
But not only the city of Windhoek is worth a trip.There is also a lot to discover in the surrounding area. And most destinations can be easily reached by hire car. We have put together a few tips for rental and travel.
Receiving the hire car
Most travelers will pick up their hire car directly at the airport. Most hire car agencies can be found directly on the airport grounds. However, there are also rental companies whose station is only located near the airport. In this case, you will have to wait for a shuttle to take you to the rental station. And that can cost valuable time. It is better to book directly with a rental company that is actually located at the airport.
Taking the right hire car
If you want to explore the wilderness of Namibia, you should definitely go for a four-wheel drive vehicle. Then your car will take you safely to your destination even on unpaved roads. Tips on driving with a four-wheel drive can be found in our special. If, on the other hand, you only want to explore the immediate vicinity of Windhoek and you only want to travel on paved roads, a normal vehicle will suffice. As there is left-hand traffic in Namibia, you should, if possible, choose an automatic vehicle. Then you can fully concentrate on the road traffic without being distracted by the gearshift.
Hire car prices
It's not cheap to hire car in Windhoek. And four-wheel drive vehicles are often really expensive. The cheapest way to go is usually to book your hire car well in advance of your trip and use our convenient price comparison tool.
hire car price comparison Windhoek
Choosing the right provider
To get a roadworthy car, for which a replacement car is also provided in the event of damage, you should only book with the major, internationally known rental companies.
Insuring the car properly
The accident rate in Namibia is high. Therefore, you should definitely take out comprehensive insurance without excess. And when it comes to liability, you need to pay attention to the coverage amount. It should be at least one million euros. Because in an accident, people can also be injured or several vehicles can be involved. This can quickly become very expensive. If the sum insured of your rental company seems to be too low, you can take out a so-called traveller policy for additional protection. Your insurance company will be happy to advise you.
Adapt the driving style
Bad road conditions and frequent deer crossing are the most common causes of an accident. Always drive at a reduced speed and always plan for a longer drive time than the route planner suggests.
age limit
Many rental companies will not rent to drivers younger than 23. And drivers under 25 are often charged an additional fee. Ask about the terms before you drive.
Accessories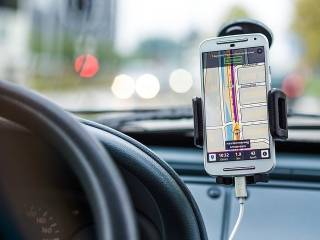 Whether it's a roof tent, navigation device or child seat: If you need accessories for your trip, you should clarify before renting the hire car whether your rental company also has the desired items in stock at the time of rental.
Language barrier
With English you can get by everywhere in Namibia without any problems. Often even German is understood and spoken.
Free kilometers
In Namibia, most tourists travel very long distances. Make sure to hire car with free kilometres.
Customer Review Hire Car
Frequent customers complain that hire car companies have tried to talk them into additional insurance locally. Always insure your car adequately at the time of booking and refuse to take out any additional insurance in Windhoek.
Safety hire car
There are also complaints about the safety of rental vehicles. The condition of the tyres in particular often leaves much to be desired. As punctures are a common occurrence in Namibia, which is a major hazard in the wilderness, you should check the condition meticulously when you pick up your vehicle. Also make sure that the lights are working properly and do a brake test.
Bail
Lenders who only block the deposit due on your credit card are the best choice. If the amount is actually deducted from the card, it can take time to transfer the money back after the vehicle is returned.
Sights in Windhoek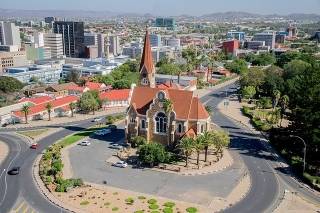 Railway station: colonial heritage
A city stroll could begin at the station. There, the colonial past comes alive again. The reception building, inaugurated in 1912, was built in the Wilhelminian architectural style and also has elements of the Jungian style.
Christ Church: color glazing from the Kaiser
Next stop on the stroll might be Christ Church. Built from 1907 to 1910, this house of worship is most impressive for its beautiful colorful painted windows, which were donated by Kaiser Wilhelm II.
Zoo Park: Relax in green surroundings
You can relax along with the locals when you stroll to Zoo Park at the end of your tour. Once used as a zoo, the pretty park now serves as a recreational spot for the city's residents.
Suggestion for a trip by hire car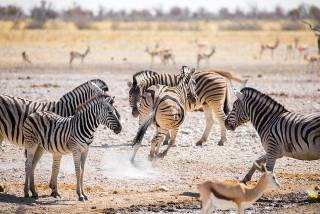 Okahandja: Lively market
First stop of an excursion with the hire car could be Okahandja. For the journey you need a scarcely one hour. Also in Okahandja there are still some buildings of the colonial past like the railway station or the church of the Rhenish Missionary Society to see. More exciting, however, are the markets at the entrance to the village, where you can buy ornate wood carvings.
Otjiwarongo: Experience a crocodile farm
The next stop on your journey is Otjiwarongo. For the journey you need good two hours. In Otjiwarongo you can visit the crocodile farm, where thousands of crocodile skins are produced every year. However, you should refrain from buying the crocodile skin products that are sold on the farm. Because you will get in trouble with the German customs at the latest.
Etosha National Park: Adventure Wilderness
You will experience real wilderness when you visit Etosha National Park at the end of the tour. The drive takes about three hours. In this fascinating national park you can observe lions, rhinos, elephants and leopards. However, follow the instructions of the park management carefully to avoid becoming a victim of an attack. Travellers who do not follow the instructions will be expelled from the park. You will find accommodation at one of the park's four rest camps and can consider how to continue your journey while listening to the sounds of the wild.
Conclusion
Namibia with its untouched nature is a wonderful country for a hire car trip. And Windhoek with its international airport is the ideal starting point. Just remember to book with reputable rental companies and choose a sturdy vehicle. With our price comparison you will always find a good deal and the vehicle that suits you