Exploring the Czech Republic by Hire Car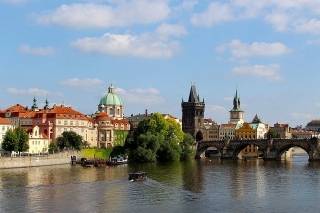 The Czech Republic has been an independent state since 1999, comprising the historic lands of Bohemia, Moravia and Moravian Silesia.
The country is located in Central Europe and borders Germany to the west.
Currently, about 10 million people live in a total area of just under 79,000 square kilometers.
The most densely populated area, with 1.2 million inhabitants, is in the capital Prague, which is also the largest city in the Czech Republic.
Many sights that can be reached quickly and a well-developed road network make the Czech Republic an ideal destination for driving a hire car. So that everything works out when renting and driving, we have put together a few tips.
Taking over the hire car
Travellers coming to the Czech Republic by air arrive via the airport in Prague. Hire car companies can be found in a separate building near parking area C.
Before you book your car, just make sure that your rental company is also there. If it is only near the airport, you may have to wait longer for a shuttle to take you to the rental station.
Taking the right hire car
Parking spaces are often in short supply, especially in Czech cities. It's better to rent a small car to be able to use tight parking spaces.
Hire car prices
Hire car prices in the Czech Republic are usually in the mid-range. You can often get the cheapest deals by booking well in advance of your trip and using our handy price comparison tool.
Czech Republic Hire Car Price Comparison
Insuring the car properly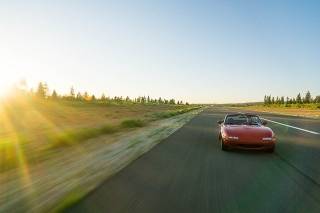 In Prague's turbulent city traffic, but also on narrow Czech country roads, it's easy to have an accident.
Safeguard yourself and book a car with fully comprehensive insurance without excess. You can find more information about insurance in our special.
Securing the car properly
To prevent car theft, you should always leave your hire car in a guarded parking lot in the Czech Republic. Never leave valuables in the car, even if you are only leaving it for a short time.
age limit
You must be 19 years old to hire car from many rental companies in the Czech Republic. And numerous rental companies charge a fee to drivers younger than 24. Check the terms and conditions of your hire car company before booking.
Accessories
Accessories such as a navigation device or child seat must always be ordered separately from your rental company. Make a reservation in good time so that the desired items are also available on the day of the rental.
Language barrier
In the Czech Republic, it's quite possible that employees at a hire car station don't speak English well. In a pinch, call your rental company's Czech exchange.
With a little luck, you may find a staff member there who can offer translation assistance.
Free kilometers
Once you discover the beauty and diversity of the Czech Republic, you'll want to see more and more of this country.
Book a car with all kilometres free so you can enjoy unplanned trips without having to look at the mileage.
Remember the tank regulation
With most hire car companies in the Czech Republic, you will receive the car with a full tank of petrol and return it with a full tank of petrol. Always try to book with a rental company with this fueling policy, as it is the most transparent system.
Bail
Be sure to choose a rental company that only blocks the deposit due on your credit card. This is because if the amount is charged, it can take a long time for the money to be transferred back to your account after the car is returned. Before you travel, make sure that your card's credit limit is sufficient to cover the deposit.
Customer Satisfaction Hire Car
Although most customers are satisfied with the rental companies in Czech Republic, there are always complaints that the booked car class was not available. In this case, you should make sure that you do not get a worse vehicle without a discount.
There are also complaints about the exterior condition of some vehicles. Have all defects such as dents or scratches confirmed in writing in a defect report. This is the only way to ensure that when you return the car, you won't be held liable for damage that you didn't even cause.
Safety Hire Car
Although hire cars in the Czech Republic are usually perfectly roadworthy, you should still test all of the vehicle's lights and do a brake test in the rental company's parking lot Also make sure you have high-visibility vests, a warning triangle, and first-aid kits in the car.
Reading traffic signs correctly
Few German tourists know the local language. Here is the translation of some important signs:
– Prujezd Zakazan – no through traffic
– Jednosmerny Provoz – one-way street
– Dalkovy Provoz – long-distance traffic
– Objizdka – diversion
– Zakaz Zastaveni – No stopping
– Pro Drzitele Povoleni ABC – Start parking license area
– Rozsvit Svetla – Turn on lights
– Bez Poplatku – Toll-free road
– Usek Castych Nehod – High accident route
Traffic rules Czech Republic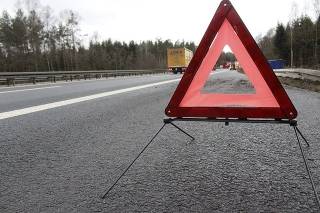 General:
The motorway network of the Czech Republic currently still consists of about 1000 route kilometres, although it has been constantly expanded since the mid-1990s.
In addition, however, there are enough trunk roads and expressways that are in good condition. However, most of the roads are toll roads and the vignette must be purchased before starting the journey.
You must also drive with lights on during the day and always carry spare bulbs.
Driving licence:
An international driving licence is not required in the Czech Republic.
Promille limit:
The 0.0 promille limit applies.
Fine:
Alcohol at the wheel: from 970 euros
Speeding: from 40 euros
Telephoning without a hands-free device: from 40 euros
Red light: from 35 euros
Overtaking ban disregarded: from 35 euros
Parking ban: from 50 – 90 euros
Other:
Similar traffic rules apply as everywhere in Europe. Speed limits are 50 km/h in cities. Outside built-up areas and on expressways 90, and on motorways 130 km/h may be driven. Stopping is prohibited when there are continuous yellow stripes at the edge of the road.
Parking is prohibited where there are interrupted yellow stripes at the edge of the carriageway or where there are blue markings on the carriageway. The speed limit at level crossings is 30 km/h and the police should be notified immediately in the event of an accident.
Suggestion for a trip by hire car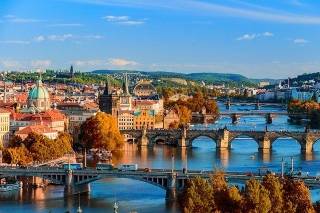 Karlovy Vary: Charming spa town
A trip by hire car could take you first to Karlovy Vary. Even Goethe appreciated the beauty of this spa town.
And to this day, Karlovy Vary, also known to many as Carlsbad, has lost none of its splendor.
Stroll along the magnificent Mill Fountain Promenade and treat yourself to a glass of Karlovy Vary's healing waters, which still bubble from drinking fountains today.
You can stock up on original souvenirs in numerous shops and enjoy a coffee at the legendary Grandhotel Pupp at the end of your sightseeing tour.
Vimperk: pure nature
Vimperk could be the next stop on your hire car trip. In just under three hours you will be there. The town lies in the middle of the famous Bohemian Forest and is a great starting point through the UNESCO-designated biosphere reserve.
Back in Vimperk, you can still take a look at the castle, which now houses the town museum. The exhibition features works of glassmaking and the art of letterpress printing.
Český Krumlov: Pulsating town with medieval flair
By now it has become evening and thus time to steer the hire car to Český Krumlov. In this charming town, you can stroll through the medieval streets and turn night into day.
Countless quaint pubs welcome guests and offer rustic cuisine at reasonable prices and, of course, good Czech beer. Cesky Krumlov's urban ensemble is so coherent that the town was added to UNESCO's World Heritage List in 1992.
After a long evening, you can sleep in style if you've booked a room at Hotel Růže. It is located in a former Jesuit college from the 16th century and offers exceedingly comfortable rooms and the best service.
Perhaps before you fall asleep dreaming of your trip, you'll find an opportunity to plan the next stops on your journey through the Czech Republic.
conclusion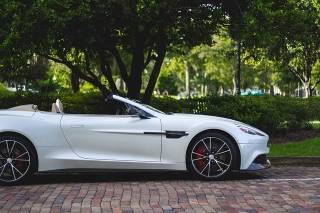 Czech Republic can be easily explored by hire car. The road network is well developed, all destinations are easily accessible by car.
And with our handy price comparison you can easily find a suitable car at a reasonable price.