Exploring Latvia by Hire Car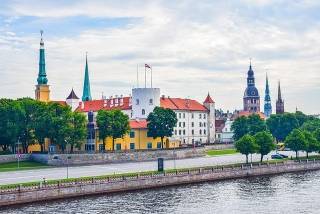 Dreamlike beaches and unspoiled nature are the reason for many travellers to go to Latvia. But also the capital Riga with its beautiful art nouveau buildings and its well-preserved old town is worth the visit.
The diversity of the country is best discovered by hire car. For booking and travel we have a few tips for you.
Taking over the hire car
You will find numerous hire car stations in the arrivals hall of Riga Airport in area E. Just make sure that your rental company is also there. If their office is only close to the airport, it can sometimes take a long time for a shuttle to take you there.
Taking the right hire car
Before you travel, consider how you will use the hire car. If the trip will be mainly to the nature reserves, it is advisable to choose a vehicle with four-wheel drive.
With this, you will still be able to make progress even if you ever want to travel on a dirt road. For the city visit, on the other hand, a car as small as possible is advantageous. With it, you can also get through narrow streets and always find a parking space.
Hire car prices
Hire car prices in Latvia are around the mid-range. You can usually get the cheapest deals by reserving the car well in advance of your trip and using our price comparison tool.
hire car price comparison Latvia
Insuring the car properly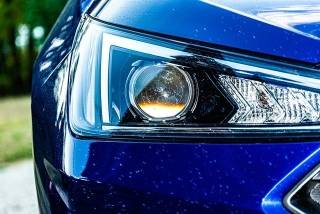 We recommend that you always book the rental vehicle with fully comprehensive insurance without excess. This way you are on the safe side in case of an accident.
With the liability, you should pay attention to the amount of coverage. It should be at least one million euros, so that you enjoy some protection if people are injured in an accident.
If the coverage amount of your rental company seems too low, you have the possibility to provide additional protection with a so-called Mallorca policy. Talk to your insurance company and make sure that the policy also covers Latvia.
age limit
Watch out if your rental company has an age restriction in Latvia. They often won't rent cars to drivers under 21. And some rental companies charge extra if the driver is younger than 21.
Accessories
If you need accessories such as child seats or a navigation device, you should reserve the desired equipment well in advance with your rental company, This is the only way to ensure that the desired items are available on the day of the rental.
Language barrier
In Latvia, you may well find that an employee at a hire car station speaks poor English. To be on the safe side, write down the phone number of the Latvian head office of your hire car company before you travel. There you can ask for translation help in case of need.
Free kilometers
Latvia is a small country. Nevertheless, you will be driving a lot of kilometres in a hire car if you want to explore all the delightful places Latvia has to offer. Better book a hire car with all the kilometres free.
Tank control
Only book with rental companies in Latvia where you can pick up the car with a full tank and return it with a full tank. This is the cleanest solution for everyone involved.
Bail
Make sure to book with a rental company that only blocks the deposit due on your credit card and does not actually collect it. This is the only way to ensure that the money is immediately available when you return the car.
Don't give thieves a chance
Never leave valuables in plain sight in your vehicle and, wherever possible, park your car in a gated parking area.
Traffic rules Latvia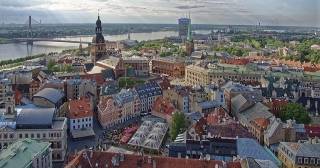 General:
In Latvia, there is a very well-developed route network, consisting mainly of 15 state-owned main roads aligned in a star shape towards Riga.
These state roads are divided into three different categories, with the first two corresponding to German autobahns and federal roads.
Caution: Latvia may have the lowest traffic density in Europe, but it takes a top spot for traffic fatalities.
Driving licence:
An international driving licence is not required.
Promille limit:
All over Latvia the 0.5 promille limit applies.
Fine:
Intoxicated driving: from 140 euros
Telling on the phone without a hands-free device: 15 euros
Exceeding the speed limit: from 30 euros
Red light: from 20 euros
Overtaking ban disregarded: from 20 euros
Parking ban: from 10 euros
Other:
Similar traffic rules apply as everywhere else in Europe. Speed limits are 50 km/h in cities, 90 km/h on rural roads. On motorways, which correspond to those of a state road 1st category, may also be driven 110 km/h.
From 1 December to 01 March, driving is only allowed with suitable winter tyres. In Latvia, dipped headlights must also be used during the day and the police must be notified in the event of an accident. Overtaking in the area of crossings and railway crossings is prohibited
Suggestion for a trip by hire car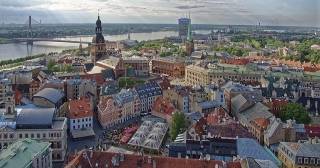 Riga – beautiful metropolis
Old Town: Charming mix of styles
Start your trip in Riga. With a population of just over 700,000, this city will immediately captivate you.
The Old Town offers an enchanting mix of 17th-century houses and magnificent Art Nouveau buildings. Stroll through the cobbled streets and soak up the atmosphere.
Petrikirche: Fantastic views
If you want to get an overview, you should head for the Petrikirche. From its tower you have an impressive view over the city. The tower has an elevator, but you will have to walk the last few meters up.
Dom: Gigantic organ
After that, a visit to the cathedral is a good idea. Here you can admire the fourth largest organ in the world. The organ has 6768 pipes and was built in the 1880s. Architecturally, the cathedral is also very interesting and combines architectural styles from the 13th to the 18th century.
In the evening you can enjoy the city. Especially in summer, Riga is a hive of activity. The sun doesn't set until around midnight and there is plenty of partying in the restaurants, beer gardens, pubs and clubs.
Sigulda: Middle Ages and untouched nature
The next day, the journey continues to Sigulda. Lovers of the Middle Ages will get their money's worth here, as the town is surrounded by castles that can be visited. It's also not far from Latvia's oldest national park, Gauja.
The best way to experience the natural beauty here is to take a canoe trip. You will cross the Gauja National Park at your leisure on the river of the same name. A canoe can be rented locally from various tour operators.
Cesis: small town for romantics
Cesis is the final stop on the road trip. You will instantly fall in love with this romantic little town. Visit the Ordensburg, which was founded back in 1209. Afterwards, take a stroll through the old town. Admire the town hall, which was built in 1767. St. John's Church, whose foundation stone was laid in 1287, is also worth a visit.
Afterwards, you can end the day in one of the pretty restaurants. Beer drinkers should know that Cesis is home to the oldest brewery in the country. Perhaps taste a sip and take your time planning the next stops on your road trip through Latvia.