Exploring Lithuania by Hire Car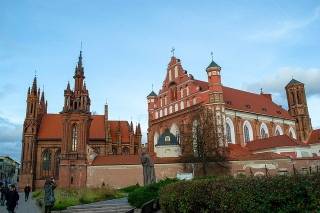 It is easy to explore Lithuania by hire car. The country is small, all major destinations can be reached in a short time by car. Nevertheless, Lithuania is rich in sightseeing. For booking and travel we have put together a few tips for you.
Taking over the hire car
Many travellers arrive in Lithuania via Vilinius airport. You will find numerous hire car agencies there in the arrival terminal. Just make sure that your rental company is there, too. If their office is only close to the airport, it can take a long time for a shuttle to take you there.
Taking the right hire car
Some roads in Lithuania are still unpaved. If you are travelling there, you should choose a vehicle with four-wheel drive. Since the car theft rate in Lithuania is relatively high, it is advisable to go for a smaller and inconspicuous vehicle that will not attract the interest of criminals so quickly.
Hire car prices
The prices for hire cars in Lithuania are usually in the middle range. You can often get cheap deals if you book well in advance of your trip and use our handy price comparison tool.
hire car price comparison Lithuania
Insuring the car properly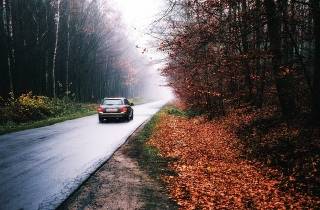 The accident rate in Lithuania is high. To ensure that you are well insured in the event of damage, you should book a car with fully comprehensive insurance without excess.
When it comes to liability, it is important to pay attention to the amount of coverage. It should be at least one million euros, so that you also have some protection in the event of an accident with personal injury.
If the sum insured of your rental company seems to be too low, you can take out a so-called Mallorca policy for additional protection. You can find more information about insurance in our special.
age limit
You must be 21 years old to get a hire car with many rental companies in Lithuania. And drivers under 25 are often charged an additional fee. Drivers over the age of 75 also miss out with many rental companies. Check the terms and conditions of your hire car company before booking.
Accessories
Remember to reserve accessories such as a navigation device or child seat in good time. Only then can you be sure that the desired equipment is available on the day of the rental.
Language barrier
In Lithuania, you may well find that the staff at a hire car station understand very little English. In this case, it can be helpful if you have noted down the telephone number of the Lithuanian head office of your rental company. There, with luck, you will find a colleague who can interpret.
Free kilometers
Even though Lithuania may seem small at first, the beauty of the country may captivate you enough to drive many miles in a hire car. Better book a car right away with all the kilometres free.
Tank control
Some rental companies rent out their cars with half-empty tanks. The vehicles are then returned with a half-empty tank.
But since there are always discussions about the correct level, you should rather book with a rental company where you take over the car with a full tank and return it with a full tank.
Bail
Before booking the car, ask if your rental company just blocks the deposit on your credit card. This is because if the amount is collected, it sometimes takes a long time for the money to be transferred back after the car is returned.
Customer Satisfaction Hire Car
Although most customers are satisfied with rental companies in Lithuania, some complain that they were tried to sell them additional insurances on the spot. Insure your car adequately right at the time of booking and then refuse to take out any additional insurance.
Read the rental agreement carefully and don't sign anything you don't fully understand. Some customers also complain about the exterior condition of the cars. Have all dents and scratches confirmed in a fault log and keep the document safe. Then, when you return the car, you can prove that the damage to the vehicle is not yours.
Safety hire car
Not all hire cars in Lithuania are in good condition. Before your first drive, check your car's lights. Don't forget your turn signals and brake lights, too. Examine the tread of the tires. Test the oil level.
Look to see if high visibility vests, warning triangle, jack, spare tire and first aid kit are on board. And do a quick brake test while still in the rental company's parking lot.
Traffic Rules Lithuania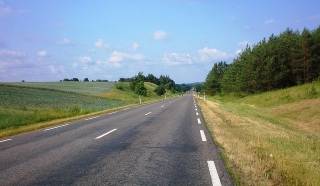 General:
In Lithuania, the road network is still under development. The most important connection is the motorway Vilnius – Kaunas – Klaipeda.
The main routes are in absolutely good condition. On the highways you have to expect horse-drawn carriages, zebra crossings and cyclists.
Driving licence:
An international driving licence is not required.
Promille limit:
All over Lithuania the 0.4 promille limit applies.
Fine:
Driving under the influence of alcohol: from 290 euros
Phone calls without a hands-free device: from 10 euros
Speeding: from 10 Euro
Red light: from 15 Euro
Overtaking ban disregarded: from 15 Euro
Parking ban: from 15 Euro
Other:
Similar traffic rules apply as everywhere else in Europe. Speed limits are 50 km/h in cities, 90 km/h on rural roads. On motorways (must be marked with a green sign) may also be driven 110 km/h. Dipped headlights must remain on during the day.
The traffic light phases are slightly different: green – flashing green – yellow – red. When yellow, the vehicle must stop. If there is an arrow on the traffic light, you may only drive in the direction indicated by green. Between November 1 and April 1, winter tyres are compulsory in Lithuania and in case of traffic accidents it is essential to notify the police.
Suggestion for a trip by hire car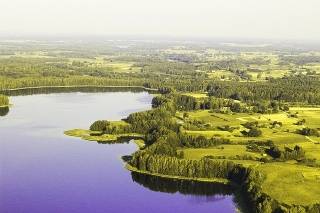 Vilnius – Capital and World Heritage Site
Start your trip in the capital. Vilnius charms with its baroque Old Town, which has also been placed on the UNESCO World Heritage List.
But at the same time, Vilnius is a modern city with a character all its own. Here, for example, you will find a 4.2-metre-tall statue of pop musician Frank Zappa.
The old town of Vilnius is easy to conquer on foot. You might climb Castle Hill first and enjoy the beautiful view of the Old Town from the local museum. After that, you can stroll along Castle Street and take in the charm of the Old Town. You should not miss the church of St. Peter and Paul.
Even though it looks inconspicuous from the outside, baroque splendour awaits you inside. The many stucco works will impress you. Afterwards, you should simply go on a tour of discovery. In many inner courtyards there are charming cafés and bars and also in the souvenir shops there are all kinds of fancy things to discover.
Kernavé – Journey to the Past
The next day, the journey continues to Kernavé. In three quarters of an hour you will be there. The former capital of Lithuania was added to the UNESCO World Heritage List in 2004. In Kernavé, it is worth visiting the Archaeological and Historical Museum to better understand the long history of the place.
Aukštaitija – Pure Nature
After culture, nature is now on the agenda. The Aukštaitija National Park is the next destination and can be reached in about two hours by hire car. Here you can go for a walk in endless forests.
But the biggest attraction of the national park is its 126 mostly picturesque lakes. You might get lucky and spot a moose on the lakeshore. The best panoramic view of the national park is from the 155-metre-high peak of Ladakalnis. There are also some museum villages to visit in the park.
Druskininkai – The Great Bathing Pleasure
On the last day of the road trip, wellness is on the agenda. Druskininkai is an elegant spa town known for its mineral springs. You will need about three and a half hours for the drive Before you plunge into the waters, you should take a little stroll through the city.
It's worth visiting the 19th-century Russian Orthodox Church. There are many other beautiful buildings in the city. In the times of the Soviet Union, unfortunately, a few buildings were added, which spoil the overall picture a little. The real attraction of the city are the mineral springs, which you can best enjoy in the huge aqua park.
Not only are there countless pools here, but there are also slides, saunas and a dedicated children's area. While you relax in the water, you can plan the next stops on the Lithuania road trip.
conclusion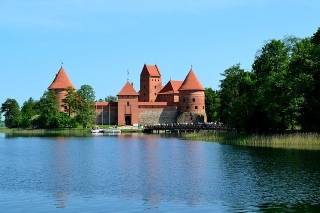 Lithuania is easy to travel around by hire car. Many roads are well developed and most places can be reached easily.
With our practical price comparison, you will always find a suitable hire car at a reasonable price.