Exploring Slovakia by Hire Car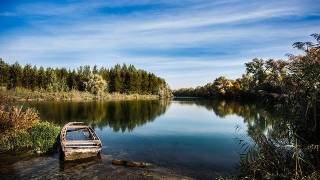 Slovakia is an independent country in Central Europe, which was still connected to the Czech Republic until 1993. It is easy to explore Slovakia by hire car.
The country is small, all the main places can be reached in a relatively short time. For the hire car and the trip we have put together a few tips for you.
Taking over the hire car
Most air travellers arrive in Slovakia via the airport in Bratislava. You will find some hire car agencies there right in the arrival terminal. Just make sure your rental company is there, too. Because if his office is just near the airport, you may have to wait a long time for a shuttle to take you there.
Booking the right hire car
Since the car theft rate in Slovakia is relatively high, you should choose a hire car that is as small and inconspicuous as possible to avoid covetousness in the first place.
Hire car prices
It's usually expensive fun to rent a hire car in Slovakia. Our tip: Alternatively, consider what a trip to Vienna would cost you. Hire cars are often much cheaper there, and Vienna is less than 80 kilometers from Bratislava.
Just make sure you check with your hire car company beforehand whether it is allowed to cross the border into Slovakia with your hire car.
hire car price comparison Slovakia
Insuring the car properly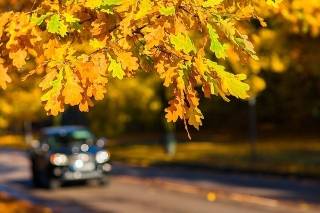 On the sometimes bad and narrow Slovakian country roads, an accident can happen quickly. Protect yourself and book a hire car with fully comprehensive insurance without excess.
When it comes to liability insurance, you should definitely pay attention to the amount of coverage. It should be at least one million euros.
Because if people are injured in an accident, it can quickly become very expensive. If you have the impression that the coverage sum of your rental company is not sufficient, you can provide additional protection with a so-called Mallorca policy. Your insurance company will be happy to advise you.
Securing the car properly
To avoid giving car thieves a chance, always park your car in a gated parking area and never leave valuables in the car.
age limit
Some rental companies require you to be at least 19 years old to hire car. And drivers younger than 24 are often charged an additional fee. Study your hire car company's terms and conditions before booking your hire car.
Accessories
If you need accessories such as a navigation device or child seats on your trip, you must always order the desired equipment separately from your hire car company. Make reservations well in advance to be sure the items will be available on the day you pick up your vehicle.
Language barrier
In Slovakia, it is quite possible that staff at a hire car station will speak poor English or no English at all. If you have written down the phone number of the Slovakian head office of your hire car company before your trip, you may be able to reach a staff member there who can interpret, if you are lucky.
Free kilometers
Although Slovakia is quite small and all destinations can be reached in a short time by car, you should still book a hire car with all kilometres free. This will allow you to explore the country extensively without constantly having to squint at the mileage display.
And the price differences between a car with limited kilometres and a car with free kilometres are usually small.
Tank control
With most hire car companies in Slovakia, you will pick up the car with a full tank of gas and return it with a full tank of gas. This is a fair and transparent solution. Just keep your last fuel receipt to be able to prove that you filled up for the last time just before returning the car.
Bail
Some rental companies actually charge the deposit due to your credit card. In this case, it sometimes takes longer for the money to be transferred back to your account after the car is returned.
Better book with a rental company that only blocks the amount. Then the money is available again immediately after returning the car. And before you travel, make sure your credit line is sufficient to cover the deposit.
Customer Satisfaction Hire Car
Most customers are very satisfied with the hire car service in Slovakia. Only some complain about longer waiting times at the hire car counters. So plan accordingly when returning the car to avoid missing your train or plane.
Acuh the external condition of some vehicles is criticized by some customers. Always have damage such as dents or scratches confirmed in a defect report, so that you are not held liable for defects that you did not cause when you return the car.
Safety Hire Car
Although most hire cars in Slovakia are perfectly roadworthy, you should still test your car's lights before your first trip. Also check that high-visibility vests, first-aid kits and a warning triangle are on board. And do a quick brake test in the parking lot of the rental company.
Reading traffic signs correctly
Not everyone is proficient in the local language. For better understanding, here is the meaning of some important traffic signs:
– Prejazd Zakazany – Closed to vehicles of all kinds
– Jednosmerna Premavka – One-way street
– Obchvat – Bypass
– Obchadzka – Detour
– Bez Uhrady – Toll-free route
– H Nemocnica – Hospital
Traffic rules Slovakia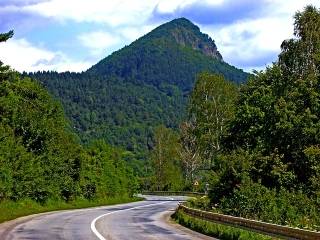 General:
The road network in Slovakia is still under construction, yet there are some well-developed expressways and highways, though the latter are mostly toll roads.
The secondary roads, however, are often not in good condition and have many potholes.
You must also drive with your lights on during the day and when waiting at a level crossing, only the marker lights should be switched on.
Driving licence:
An international driving licence is essential in Slovakia.
Promille limit:
It applies everywhere in Slovakia absolute prohibition of alcohol at the wheel. So 0.0 promille limit.
Fine:
Alcohol at the wheel: from 295 euros
Speeding: from 30 euros
Telling without a hands-free device: up to 135 euros
Red light: up to 330 euros
Overtaking ban disregarded: up to 330 euros
Parking ban: from 10 euros
Other:
Similar traffic rules apply as everywhere in Europe. The speed limits are 50 km/h in cities. Outside built-up areas, the speed limit is 90 km/h, and 130 km/h on expressways and motorways.
In Slovakia it is compulsory to carry a high-visibility vest in your vehicle, otherwise you could face a hefty fine of 50 to 150 euros.
If the roads are covered in snow and/or ice, winter tyres must be used. Parking is prohibited in Slovakia when there are broken lines or yellow continuous lines at the edge of the road.
Suggestion for a trip by hire car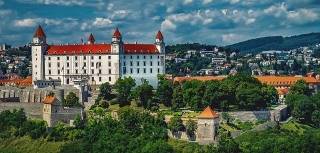 Bratislava: Lively Capital
The journey begins in Bratislava, the country's capital. Just over 400,000 inhabitants live in the metropolis. That makes Bratislava a small capital, but anything but sleepy.
A vibrant metropolis awaits you, where past and present complement each other harmoniously.
Start your tour at the Michaelertor. Here you will stand in front of Bratislava's only preserved city gate. The gate was first mentioned in a document in 1411, but the baroque tower that gives the Michael Gate its face was built between 1753 and 1758.
The tour continues to the Blue Elizabeth Church. It was built in 1908 and is considered a prime example of Art Nouveau. Now you should visit the Mirbach Palace. It was built between 1768 and 1770 and impresses with its rococo facade as well as its magnificent interior.
A stroll through the Michalská pedestrian zone concludes the sightseeing tour. Sit down in a "Viennese coffee house", watch the locals do their shopping and enjoy the relaxed yet lively atmosphere of the city.
Nitra: Discover Slovakia's oldest city
Continue your journey in an hour to Nitra, the oldest city in Slovakia. The first church was consecrated here back in 829. First, visit the castle. It was built in the 11th century. In 1663, however, large parts were destroyed in a Turkish attack.
The more recent parts of the castle were added during the Renaissance and Baroque periods. Be sure to visit the Cathedral of St. Emmeram, located inside the castle complex. The magnificent marble altar, created in 1622, is worth seeing.
After that, should it not be too hot, you can still climb Nitra's local mountain, Zobor. It is 588 meters high and offers a beautiful view of the surrounding area. If you don't feel like hiking, you can also take a cable car to the top.
Banska Bystrica: Perhaps the most beautiful place in the country
Banska Bystrica is the final point of this road trip. You should allow a good hour for the drive. In Banska Bystrica, the picturesque old town with its many small shops, cafés and restaurants is particularly charming.
First, visit the market square, which is lined with magnificent old buildings. Don't miss climbing the clock tower, which dates back to 1552. From here you have a beautiful view over the market square and the city.
The Church of St. Mary, which is located inside the castle grounds, is also worth a visit. The oldest parts date back to 1255. If you are hungry now, we recommend the restaurant Slovenská pivnica.
Here you can get to know Slovak cuisine at its best. There is also no shortage of good hotels in Banska Bystrica. At the Arcade Hotel you will stay in an old building from the 16th century and enjoy the comforts of modern times.
conclusion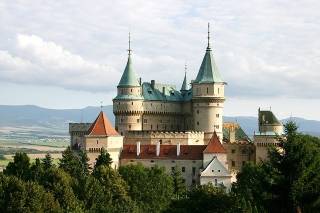 Slovakia is an ideal country for a trip by hire car. The country is relatively small and all worthwhile destinations can be reached relatively quickly by car.
With our handy price comparison it is no problem to find a suitable car at a reasonable price.