Slovenia – easy to travel by hire car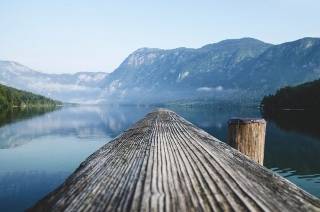 Slovenia is a relatively small country in the south of Europe. Despite its small size, there are still quite a few different landscapes here.
While especially the north is characterized by mighty mountains like the Alps, the south is dominated by the nearly 47-kilometer-long Adriatic coast, which is also called the Slovenian Riviera.
Whether you are planning a ski tour in the mountains or prefer to spend your holiday on the shores of the Mediterranean, in Slovenia you will get your money's worth. The country is easy to travel around by hire car. For the rental and the trip we have put together a few tips.
Taking over the hire car
Most air travelers arrive in Slovenia via the airport in Ljubljana. Some hire car agencies can be found right by the parking garage at the airport. Follow the signs or inquire at the information desk. Before you book the hire car, just make sure that your hire car company is also located at the airport.
Because if he only has his office near the airport, you may have to wait a long time before a shuttle takes you to your hire car.
Booking the right hire car
The Foreign Office warns of increasing crime in Slovenia. So it's better to book a small and inconspicuous hire car to avoid arousing the desires of potential thieves in the first place.
Insuring the car properly
On narrow and winding Slovenian country roads, it's easy to have an accident. With comprehensive insurance without excess, you are well insured in the event of damage. You can find more information on the subject of insurance in our special.
Securing the car properly
Don't give thieves a chance and always leave the car in a guarded parking lot at night. Never leave valuables in the car, even if you only leave it for a short time.
Hire car prices
In Slovenia, you can often get hire cars at surprisingly cheap rates. However, if the offer is too attractive, you should study the rental conditions carefully. Sometimes you can find hidden costs there, which ultimately turn the supposedly cheap hire car into an expensive offer.
Providers with a good price-performance ratio, we have marked with the note "Excellent offer".
hire car price comparison Slovenia
age limit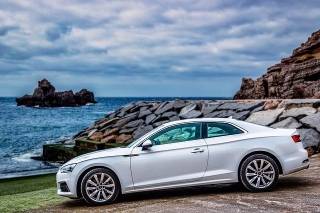 You have to be 21 to get a hire car from most rental companies in Slovenia. And some hire car companies won't give cars to drivers older than 70 or 80.
Drivers younger than 25 and drivers between 70 and 80 pay an extra fee at some rental companies. Check your hire car company's terms and conditions before booking.
Accessories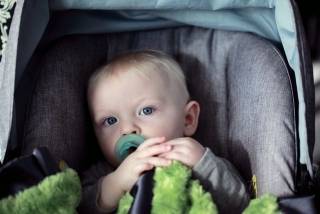 Accessories such as a navigation device, can make the trip much easier. And if small children are part of the travelling party, child seats must be on board. You must always order your accessories from your hire car company. Make your reservations well in advance so that the items you want are available on the day of your rental.
Language barrier
Although the staff at most hire car stations in Slovenia speak relatively good English, there may still be communication difficulties in individual cases. Before you travel, make a note of the telephone number of the Slovenian head office of your hire car company. There you can ask for translation help in case of emergency.
Free kilometers
If you want to experience the diversity of Slovenia to the fullest, you will be covering a lot of miles in a hire car. So better hire car where all the kilometers are free.
Tank control
With most rental companies in Slovenia, you will receive a vehicle with a full tank of petrol and then return the car with a full tank of petrol. As this is the most transparent and fair solution, make sure you book with a rental company that does the same.
Keep your last fuel receipt in a safe place to prove that you did indeed fill up the car for the last time just before returning it.
Customer Satisfaction Hire Car
Most customers are absolutely satisfied with the hire car in Slovenia. Only in very rare cases are complaints made about the external condition of the vehicles. Always have scratches and dents confirmed in a fault report and keep the document safe.
This is the only way to be sure that you will not be held liable for damage that you did not cause when you return the car.
Safety hire car
Although hire cars in Slovenia are usually perfectly roadworthy, you should still check the lights before your first drive and see if there are any high-visibility vests, warning triangle and first-aid kit on board.
In addition, do a short brake test in the parking lot of the rental company.
Traffic rules Slovenia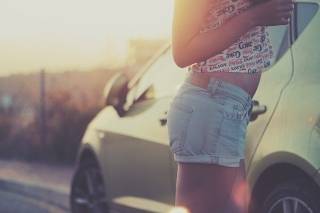 General:
Slovenia has a fairly well-developed road network, largely in good condition, with excellent connections between the main cities and towns.
Most of the highways, however, are subject to tolls. Lights must be used here all year round, even during daylight hours, and in towns parking is only allowed in specially designated areas or car parks.
Driving licence:
An international driving licence is not required in Slovenia. If you have an international driving licence, it must be valid for the next two years.
Promille limit:
The 0.5 promille limit applies everywhere in Slovenia.
Fine:
Alcohol at the wheel: from 125 euros
Speeding: from 40 euros
Telling without a hands-free device: 120 euros
Red light: 250 euros
Overtaking ban disregarded: from 170 euros
Parking ban: from 40 euros
Other:
Similar traffic rules apply as everywhere in Europe. The speed limits are 50 km/h in cities. Outside built-up areas and on expressways, 90 to 100 km/h may be driven, and 130 km/h on motorways.
Warning vests must also be carried in vehicles in Slovenia and winter tyres are compulsory between 15 November and 15 March. Care should be taken not to overtake school buses when they stop to board or disembark, and children under 12 can only be carried in the back seat of the vehicle.
Suggestion for a trip by hire car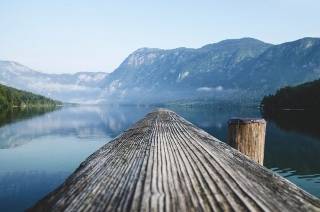 Kamnik: Medieval Town
A trip by hire car could start in Kamnik. From Ljubljana, you can reach the town in half an hour.
In Kamnik, it is mainly the medieval-looking town centre that is worth the visit.
As was once the case, many shops have metal guild signs attached to their houses to indicate their range of products.
You'll get a fantastic view if you climb up to Mali Grad Castle, which guards the town. At the castle you will find a hermitage that exemplifies the Romanesque architectural style.
Jesenice: pure mining and nature
You can go on extended hikes if you now steer the hire car to Jesenice. In three quarters of an hour you are there. The mining town of Jesenice exudes rather rustic charm.
Despite this, it's worth visiting the Stara Sava Industrial Museum Park here, where you'll learn how the town once came into wealth. After your visit, lace up your hiking boots and explore the mountains of the Karavanke.
Nova Gorica: Gambler's Town with a View
The last stop on your hire car tour is Nova Gorica, which you can reach in just over an hour and a half to two and a half hours, depending on your route planning. Nova Gorica is also known as the Las Vegas of Slovenia, as numerous casinos vie for the favour of customers there.
Before you indulge in gambling, you can still visit the Basilica of "Saint Mary", located on Sveta Gora (Holy Mountain). 682 meters above sea level, you will enjoy a magnificent view of the city and its surroundings.
Let your gaze wander and take your time deciding which destination to head to next in your hire car.
conclusion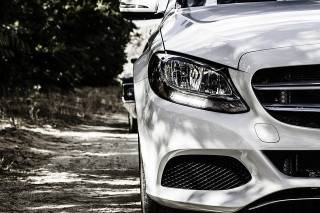 Slovenia is great to explore by hire car. The country is extremely diverse, yet so small that many destinations can be reached after just a short drive.
With our handy price comparison, you can easily find a suitable hire car at a great price.