Exploring Spain by Hire Car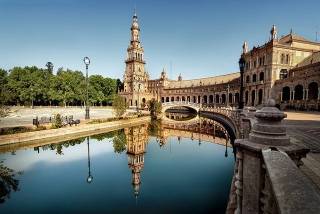 The diverse Spain is ideal for a trip with a hire car.
There you can experience untouched nature, enjoy sunbathing on the beach and enjoy delicious Spanish cuisine in a turbulent city all in one day.
For rental and travel by hire car, we have compiled a few tips.
Receiving the hire car
At many Spanish airports you will find hire car stations right at the terminal. Just make sure that your rental company is there. If it is only close to the airport, it can sometimes take a long time for a shuttle to take you to your hire car.
Taking the right hire car
If you are planning long tours across the country, you should go for a larger and comfortable hire car. If, on the other hand, you want to venture into the turbulent city traffic of the metropolises, the hire car cannot be small enough. Because only with a small car you have a good chance to find a parking space.
Hire car prices
You can often get hire cars at amazingly cheap rates in Spain. However, if a car is offered too cheap, the alarm bells should ring. Often there are hidden costs in the rental conditions, which make the supposedly cheap offer very expensive.
Offers, where we are of the opinion that they offer a very good price-performance ratio, we have marked with the note "Excellent offer".
hire car price comparison spain
Insuring the car properly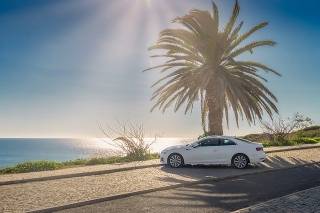 The proverbial temperament of the Spaniards does not stop at the driving style. An accident can happen quickly.
With a fully comprehensive insurance without deductible, you are well insured if it times bangs. With liability, you should pay attention to the amount of coverage.
It should be at least one million euros, so that you have some protection even in major accidents.
If the sum insured of your rental company seems to be too low, you can take out a so-called Mallorca policy for additional protection. This is not only valid on the island of love of the Germans but in all of Spain. Your insurance company will be happy to advise you.
age limit
You have to be 21 years old at almost all rental companies in Spain to rent a hire car. And seniors over the age of 75 are also left empty-handed by some hire car companies. Drivers under 25 are often charged an additional fee. Ask about your rental company's terms before renting the car.
Accessories
A good navigation device can make a trip through Spain much easier. And if children are going on holiday with you, suitable child seats need to be ordered. Reserve the accessories you want well in advance so that your rental company will have things ready when you pick up the car.
Language barrier
In Spain, you cannot automatically assume that the staff at your rental station speak good English. Before you travel, it's better to make a note of the number of your hire car company's Spanish head office. There you can ask for a telephone interpreter in case of emergency.
Free kilometers
If you only want to explore one Spanish city and its nearest surroundings, you may be able to rent a cheaper car where the kilometers are limited. However, if you want to explore large parts of the country, you should always go for a hire car where all the kilometres are free.
Tank control
Only book with rental companies where you pick up the car with a full tank and return it with a full tank. This is the cleanest and most transparent solution for everyone.
Bail
Make sure that the credit limit on your credit card is sufficient to pay the deposit due. And if possible, only book with rental companies that only block the deposit.
If the amount is actually charged, you may have to wait longer before the money is transferred back
Traffic rules Spain
General:
Spain has an excellent road network with two types of motorways.
While the autovias are toll-free, tolls are charged on the autopistas.
In some places, the two routes even run parallel.
In the cities, a parking prohibition is indicated by a yellow line in addition to signs, and high-visibility vests and two warning triangles must also be carried. People wearing glasses must make sure they have a spare pair with them.
Driving licence:
An international driving licence is not required in Spain.
Promille limit:
The 0.5 promille limit applies everywhere in Spain.
Fine:
Alcohol at the wheel: from 300 euros
Speeding: from 90 euros
Telling without a hands-free device: from 90 euros
Red light: from 90 euros
Overtaking ban disregarded: from 90 euros
Parking ban: up to 90 euros
Other:
Similar traffic rules apply as everywhere in Europe. The speed limits are 50 km/h in cities. Outside built-up areas and on expressways may be driven 90 / 110 km/h and on highways 120 km/h.
In the Canary Islands and the Balearic Islands, slightly modified traffic rules apply in some cases. If dogs are travelling in the car, they must be strapped in and devices with radar detectors are generally prohibited in Spain.
Also, make sure that the engine, electronic devices such as radios or mobile phones, and vehicle lights must be switched off when refuelling.
Suggestion for a trip by hire car in Northern Spain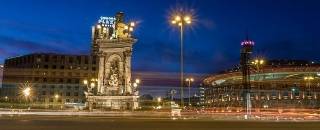 Actually, in Catalonia you are navigating a separate state that is not really part of Spain at all.
At least that's how many Catalans see it, who have always felt they belong more to France and Italy than to mainland Spain. This is also expressed in the language.
In Catalonia, the language spoken is not Spanish, but Catalan. This dialect is much more like Provençal than Spanish. But don't worry, Spanish and English will get you everywhere.
Hikers are drawn to the mountains
Hikers and climbers will be happy in the Pyrenees. In the only national park in Catalonia, the Aigüestortes i Estany de Sant Maurici, nature lovers get their money's worth. But also the many small towns in the hinterland are worth a visit. Here you can still get to know unadulterated Spanish life.
However, you should not choose the early afternoon for a visit. Then the siesta takes place and it is sacred to many Spaniards. The shops are closed and especially the small towns seem to be deserted.
Sun worshippers love the wild coast
The Costa Brava has a battered reputation. It was one of the first destinations to be discovered for mass tourism. Tourists invaded in droves on buses and planes.
Unbridled building boom followed. But even in this region, there are still the small hidden beaches that offer solitude and tranquility. Your sense of discovery is called for. Follow the coastal road. Choose the small roads that lead to places that are not in the travel guide and let yourself be surprised. After all, with a hire car you are unbound.
Barcelona – fascinating culture in a vibrant city
An absolute highlight is Barcelona, capital of the province of Catalonia. But before you plunge into the city bustle, you should first park your hire car. Even though Barcelona has become safer in recent years, it is advisable to leave your hire car in the parking garage.
Now you're ready to go. First, stroll along the Ramblas, the city's major pedestrian street, and soak up the atmosphere. Stop into a small bodega and enjoy a glass of cava and the irresistible tapas, small bites with great taste.
So fortified, you can now turn your attention to the cultural richness of the city. Be sure to visit the impressive Sagrada Familia church. It was designed by Antoni Gaudí, who is considered the most important representative of modernism.
Gaudí also designed many other buildings and parks. If you stroll through the city with your eyes open, you will encounter him at every turn. A true son of the city is artist Joan Miró, whose museum is another highlight. Miró is considered one of the leading exponents of surrealism.
The journey is the destination – and the night is not for sleeping alone
Barcelona offers such a variety of cultural attractions that many visitors fail to truly experience the city's appeal. Rather, pick a few cultural highlights and let yourself drift.
Stroll the streets and feel the pulse of the city. And don't go to bed too early. Like everywhere else in Spain, the real life in Barcelona doesn't wake up until after 9 p.m.
In the trendy bars, things often don't get going until after midnight.
You should allow at least two days to visit Barcelona. But at some point it will be time to turn your back on the city and continue your Spain road trip south.
conclusion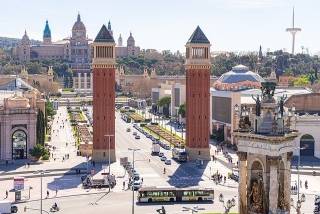 Whether you're exploring the north of Spain or heading to the hot south, you can easily reach almost any destination of interest with a hire car.
And with our handy price comparison you will always find a suitable car at a great price.