Exploring Ukraine by Hire Car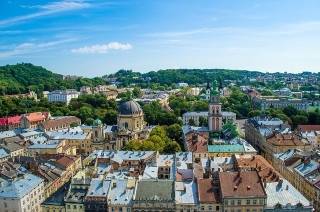 Ukraine is the largest country in Europe by area after Russia. The state, which has been independent since the dissolution of the Soviet Union in 1991, is located in the east of the continent.
Currently, more than 45 million people live in just over 600,000 square kilometers, with more than three million of them living in the capital Kiev alone, which is also Ukraine's largest city.
This is also where the country's cultural and economic center is located. To the south, the Black Sea forms a natural border.
Lonely landscapes, dreamy villages and lively cities, as well as the wonderful coasts on the Black Sea make Ukraine a diverse travel destination.
The country is vast and is best explored by hire car even though some areas are currently restricted due to the conflict with Russia. For renting and driving we have compiled a few tips.
Avoid crisis areas
The Foreign Office strongly advises people to avoid travelling to the Crimean peninsula and the administrative districts of Donetsk (including the city of Mariupol) and Luhansk.
Taking over the hire car
Many travelers arrive in Ukraine via Kiev-Borispol Airport. You will find numerous hire car agencies right at the airport. Follow the signs or inquire at the information desk.
Before you book your car, just make sure that your rental company is also located at the airport. If they only have an office near the airport, you may have to wait a long time for a shuttle to take you to your hire car.
Taking the right hire car
As many roads in Ukraine are in quite poor condition, you should go for a vehicle that is as robust as possible, preferably with four-wheel drive. But also make sure it is comfortable, as you will often be doing long drives in Ukraine. And these are no pleasure with a Lada Niva, for example, even if this car gets through everywhere.
Hire car prices
The prices for a hire car in Ukraine are usually in the middle range. You can often snag a particularly good deal if you book well in advance of your trip and use our handy price comparison tool.
hire car price comparison Ukraine
Insuring the car properly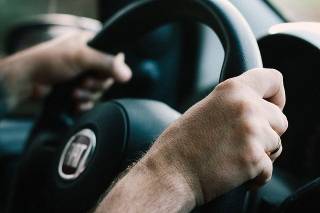 To be well insured in case of an accident, you should always book a hire car with fully comprehensive insurance without excess, even in Ukraine.
With liability, it is important to pay attention to the amount of coverage. It should be at least one million euros.
Because in an accident with personal injury quickly arise very high costs.
If the sum insured of your rental company seems to be too low, you can take out a so-called traveller policy for additional protection. Talk to your insurer and make sure your policy covers Ukraine.
age limit
21 years of age and two years in possession of a valid driver's license are required to hire car from virtually all hire car agencies in Ukraine. And many providers charge an additional fee from drivers younger than 25. Check your rental company's terms and conditions before booking.
Accessories
Any accessories, such as a navigation device or child seat, must be ordered separately from the hire car company. Some rental companies may even require winter tires, which are mandatory during the cold season in Ukraine, to be ordered and paid for separately.
Reserve your desired accessories well in advance to ensure that your equipment will be available on the day you pick up your car.
Language barrier
It is possible that employees of a service station in Ukraine speak poor or no English. Before you travel, write down the phone number of your hire car company's Ukrainian headquarters. With luck, you'll find a staff member there who can provide translation assistance.
Free kilometers
In the vast Ukraine, it is essential to book a hire car with all kilometers free. This is the only way to enjoy the long drives in a relaxed way.
Tank control
With most hire car companies in Ukraine, you will receive your vehicle with a full tank of gas and return the car with a full tank of gas.
Keep your last fuel receipt safe. This way, you can prove that you last filled up just before you got to the hire car station.
Bail
If possible, you should book with a rental company that only blocks the deposit on your credit card. After all, if the amount is charged off, it can sometimes take a long time before the money is paid out again after the car is returned.
Customer Satisfaction Hire Car
Unfortunately, we keep receiving complaints about the condition of the vehicles. Have all defects confirmed in writing in a defect log, so as not to be held liable for damage that you did not even cause when you return the car.
The opening hours of the hire car stations are also always a cause for complaint. Make sure you check before you travel that your hire car station is open when you want to pick up the car.
Safety Hire Car
The safety of some rental vehicles in Ukraine also leaves much to be desired. You should check the following points before your first trip.
– Do the lights of the vehicle work? Also remember brake lights and indicators.
– Does the car have enough oil?
– Is the tread on the tyres satisfactory?
– Is the coolant topped up?
– Are the brakes working? Do a quick brake test in your rental company's parking lot.
– Are the high-visibility vests, warning triangle, tow rope, and first-aid kit on board?
Also check the air pressure of the tires at the first gas station. If you discover anything on your vehicle that affects road safety, be sure to insist on a replacement hire car.
Traffic rules Ukraine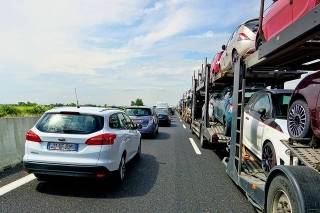 General:
Ukraine does not currently have a continuous network of motorways, but it does have a well-developed system of trunk roads and expressways, which is in excellent condition.
Fuel stations are also not as common here as in Western Europe.
So you should always fill up in time. You can only pay in local currency here, credit cards are not accepted.
Driving licence:
An international driving licence is absolutely necessary in Ukraine.
Promille limit:
The 0.0 promille limit applies everywhere in Ukraine.
Fine:
Traffic fines are solely at the discretion of the police and vary widely. What is certain, however, is that foreigners should always expect to pay a surcharge. For offences under the influence of alcohol is to be expected with 218 – 291 euros and a possible driving ban.
The phone in the car is only allowed with a suitable hands-free device. A violation of this rule can be very expensive.
Other:
Similar traffic rules apply as in Europe. Speed limits are 60 km/h in cities, 20 km/h in residential areas. Outside built-up areas and on expressways, the speed limit is 90 km/h, and 130 km/h on motorways.
Children under the age of 12 and children shorter than 1.45 m are only allowed in the back seat of the vehicle.
Suggestion for a trip by hire car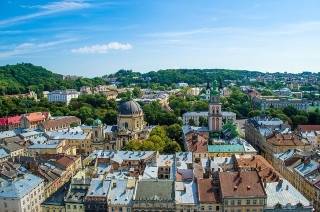 Uman': Diverse Landscape Park
A trip by hire car could start in Uman'. From Kiev, you can be there in about three hours. Nature lovers will be especially happy in this city of 88,000 people.
For here the magnificent landscape park Sofijivka awaits you. The lovingly designed grounds were created as early as 1796 when Fraf Stanislaw Felix Potocki gave the park to his wife as a gift.
A walk through the garden can substitute for a trip through Europe, as you can see an English garden, a small Switzerland and even the Champs-Élysèes. You can visit the park by foot, carriage or boat.
Odesa: Turbulent Metropolis
Continue your journey to Odesa, a major city located on the Black Sea with a population of about one million. You should calculate about three and a half hours for the trip by hire car.
In cosmopolitan and turbulent Odesa, you can easily spend a week without getting bored. First, stroll to the Potemkin Steps, built between 1837 and 1842 by architect Francesco Boffo.
The staircase appears much longer from the top than it actually is, as the master builder had built the lower steps wider – a stunning optical illusion.
Next stop on your city stroll could be the Opera House, built between 1884 and 1887 and considered a prime example of neo-baroque architectural style.
To finish off your first stroll, you could direct your steps to the Museum of Art, located in the neoclassical Potocki Palace. The exhibition features works by Wassily Kandinsky, among others. After the museum visit, it's time to get to know today's Odesa.
Stroll the streets, browse interesting shops and strike up a conversation with locals in one of the many eateries.
Kamjanec-Podylskyj: Romantic town with medieval castle
To finish off a first trip by hire car, you can steer the car to Kamjanec-Podylskyj. You may have a long drive of almost nine hours ahead of you, but you will be greeted by a beautiful little town.
First, check out the Old Fortress, which was built between the 11th century and the 19th century. Most of the complex, however, dates back to the 16th century.
You'll feel like you've stepped back into the Middle Ages as you stroll through the magnificent fortress. Peter and Paul Cathedral could be the next stop on your sightseeing tour. Here you can see a curiosity, because during the time of the Turkish siege, at the end of the 17th
century, a minaret was added to the church. After the Turks withdrew, the townspeople left the minaret standing and decorated it with a statue of the Virgin Mary.
After visiting the church, you can stroll through the alleys of the old town to experience the romantic atmosphere of the city. Perhaps stop at the Pid bramjou pub, which you'll find by the city gate.
There you can enjoy real Ukrainian home cooking. If you want to have a relaxing night after a long day, we recommend Hotel Amadeus Club. It is centrally located in the Old Town and offers comfortable rooms and impeccable service.
The next day, over breakfast, you can plan which places in Ukraine you would like to visit next by hire car.
Conclusion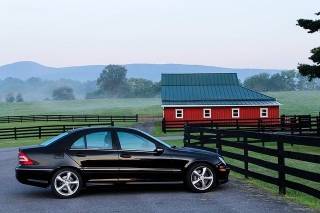 A well-developed road network ensures that Ukraine is best explored by hire car. However, you should bring enough time with you, as the roads are often very long.
With our practical price comparison you will always find a good hire car at an attractive price.