Romania by hire car – There is much to discover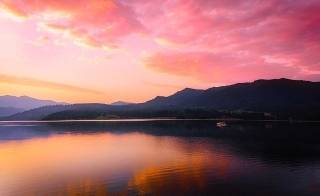 Romania is an exciting travel destination. With a beautiful coastline on the Black Sea, the mountainous landscape of the Carpathian Mountains and a vast lowland plain, the country offers pure variety for the traveller.
The best way to explore Romania is by hire car. For booking and travel, we have compiled a few tips.
Taking over the hire car
Most hire car travellers arrive in Romania via the airport in Bucharest. Some rental agencies can be found right inside the terminal. Just follow the signs. Before you book the hire car, just make sure that your hire car company is also located in the airport.
Because if the rental company's office is only near the airport, it can sometimes take longer for a shuttle to get you there.
Choosing the right car
Since some roads in Romania are still in very poor condition, it is advisable to choose a car that is as robust as possible, preferably with four-wheel drive.
Hire car prices
Hire car prices in Romania tend to be in the mid-range. You can often get the cheapest deals by booking well in advance of your trip. Use our handy price comparison tool.
hire car price comparison Romania
Insuring the car properly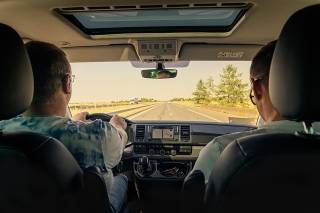 The rugged driving style of many Romanian drivers, coupled with the sometimes poor condition of the roads, means that accidents can happen quickly.
Safeguard yourself and book a car with fully comprehensive insurance without excess. With liability, you should pay attention to the amount of coverage.
It should be at least one million euros. Because if people are injured in an accident, it quickly becomes very expensive.
If the coverage of your hire car seems too low, you have the option of a so-called Mallorca policy for further protection. Talk to your insurance company.
age limit
You must be 21 years old to hire car from almost all hire car companies in Romania. And drivers younger than 25 usually pay an additional fee.
Some hire car companies won't lend vehicles to drivers older than 70. Check your rental company's terms and conditions before booking.
Accessories
If you're travelling in the Romanian mountains in winter, you might be glad to have snow chains. And in the cities, a navigation device can help you find your hotel.
No matter what accessories you need for the trip, you must always order the equipment from your rental company. Make reservations well in advance so that the items you want are available on the day you pick up your vehicle.
Language barrier
At Romanian hire car counters, it is quite possible that the staff will speak poor English. To be on the safe side, make a note of the phone number of the Romanian head office of your rental company. There you can ask for translation help in case of need.
Free kilometers
To explore the diversity of Romania, you will cover a lot of miles in a hire car. So it's best to book a car with all kilometres free right away.
Tank control
Also in Romania there are rental companies that require their customers to buy the first tank of fuel. Often, they even charge an additional service fee for this. The car can then be returned with an empty tank.
If, however, you still have a half-full tank when you return the car, you will not be reimbursed for the petrol. So you should rather book with a rental company, where you take the car with a full tank and return it with a full tank. This is usually the cheapest solution.
Bail
If your rental company actually charges the deposit due to your credit card, it can sometimes take longer for the money to be transferred back to your account after you return the car. It's better if the hire car company just blocks the amount.
Be sure you have enough credit on your card to cover the deposit before you travel.
No valuables in the car
Thefts are common in Romania. Therefore, never leave valuables in the car and lock the vehicle from the inside while driving.
Pay fast
If you have to pay a fine, you should act quickly. If the amount is paid within two days, the price is reduced to half the minimum fine.
When paying, however, you should always insist on a receipt.
Read traffic signs correctly
We have compiled a translation of the most important traffic signs for you:
– Toate directiile – All directions
– Ocolire – Detour
– Ceata – Fog
– Drum periculos – Dangerous roadway
– Claxonarea interzisa – No horns
Customer Satisfaction Hire Car
Although most customers are satisfied with the hire car stations in Romania, some do complain of long waits at the counters. Plan on a generous window of time, especially when returning your car, to avoid missing your plane.
The external condition of some hire cars also gives cause for complaint. Always get dents and scratches confirmed in writing to avoid being held liable for damage you didn't cause when you return the car.
Safety rental vehicles
Although most rental vehicles in Romania are in roadworthy condition, you should still test your car's lights before your first trip.
Don't forget the indicators and brake lights either. Check whether the fire extinguisher, high-visibility vests, first-aid kit and warning triangle are in the car. And do a quick brake test while still in your rental company's parking lot.
Traffic rules Romania
General:
Romania currently has two motorways in the Bucharest area, which are also toll roads. Others are under construction and some are in the planning stage.
In Romania, traffic regulations are extremely strict and the police have the right to immediately confiscate driving licenses in special cases.
This applies to: Failure to yield the right of way, failure to yield to pedestrians at crosswalks, and failure to obey a red/yellow light or stop sign. It also applies that vehicles entering a roundabout have the right of way.
Driving licence:
Although not essential, an international driving licence is useful.
Promille limit:
There is a 0.0 promille limit in Romania. There is no tolerance here.
Fine:
Alcohol at the wheel: from 125 euros
Speeding: from 85 euros
Telling without a hands-free device: from 30 euros
Red light: from 55 euros
Overtaking ban disregarded: from 85 euros
Parking ban: from 30 euros
Other:
Similar traffic rules apply as everywhere in Europe. The speed limits are 50 km/h in cities. Outside built-up areas and on expressways, the speed limit is 90 km/h and on motorways 120 km/h.
Telling on the phone is only allowed with a suitable hands-free device. Out of town, you must also drive with your headlights on during the day. You should be particularly careful when driving through rural towns and when driving in the dark, as you should always expect to see unlit vehicles.
Overtaking on bridges is prohibited and in the event of an accident it is essential to notify the police. The import and / or export of reserve fuels is prohibited in Romania. A fire extinguisher and two warning triangles must be carried in the vehicle.
For vehicles with a permissible total weight of over 3.5 t, it is also mandatory to carry a reflective high-visibility vest. It must be worn in the event of breakdowns and the like. A vignette is required to use the Romanian national road network.
Suggestion for a trip by hire car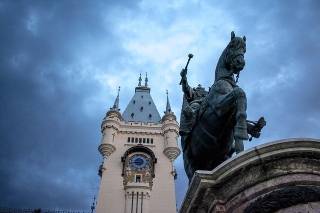 Bucharest: Pulsating metropolis
The journey in Romania begins in the capital, Bucharest. In earlier times, the city was also called "Paris of the East". Today, Bucharest is striving to reclaim that reputation.
Start your city tour in the Calea Victoriei, the Victory Avenue. Here, Bucharest shows its sophisticated side.
The many boutiques invite you to go shopping and in the chic cafés you can then recover from the shopping stress. Just nearby, the Piaţa Amzei is worth a visit. At this market you can observe the bustling life. Regional as well as exotic fruits, eggs and meat are, nicely arranged, offered for sale by the traders.
Time for a little culture. Visit the Romanian Athenaeum, arguably the most magnificent building in the capital. It was built between 1885 and 1888 by architect Albert Galleron. But Bucharest also has a place for recent history.
On the Piaţa Revolţiei you will find the Memorialul Renaşterii revolutionary monument which is meant to commemorate the Romanian Revolution of 1989. Stroll through the streets and sit down at a café or restaurant, which is mostly populated by locals. People-watch and develop a sense of the Romanian way of life.
Brasov: Charming Old Town
Brasov is the name of the next stop on your road trip. In just under three hours you will be there. Especially the old town is beautifully restored and invites you to linger. Don't be surprised if you keep bumping into older locals chatting in German.
The former Kronstadt has a long German-Hungarian past. Begin your city stroll in the town hall square. The magnificent town hall shines in bright yellow, and many cafés set up their tables on the square in summer. It is framed by beautifully restored town houses.
Visit the black church, built from 1385 onwards. In 1689, it received your namesake blackness from a major fire. It is considered the largest Gothic cathedral in southeastern Europe. After visiting the church, it is worth taking a stroll to the Weavers' Bastion, which now houses the city museum.
Iaşi
Continue to Iaşi, which you will reach in four and a half hours. The largest city in the northeast also offers a variety of sights. Visit the magnificent Palace of Culture, which was built between 1890 and 1926.
You should also check out the Great Synagogue, the largest Jewish house of worship in Romania. Also recommended for a visit are the Golia Monastery Church, the Three Hierarchs Church and the Dosofstei House, one of the few 17th-century burgher houses.
For a long rest, we recommend Casa Pogar, a typical restaurant of the region. The country's poets met here as early as the 19th century. Order a hearty meal and a cold beer, sit back and plan the rest of your road trip Bulgaria.
Conclusion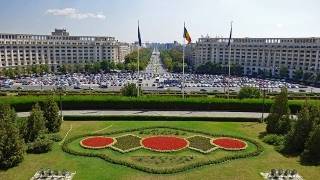 Romania is easy to explore by hire car. However, as some destinations are far apart, you should allow enough time.
With our handy price comparison, you can easily find a hire car that suits you at a great price.