Discover Oslo by Hire Car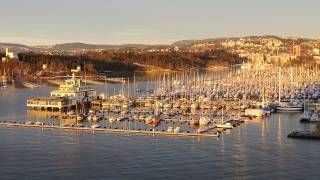 Oslo lies at the northern entrance to the 100-kilometre-long Oslofjord deep in the south of Norway and has been the capital and ruling seat of the Scandinavian kingdom since 1299.
Currently, the Oslo metropolitan area is home to around 1.4 million people living in an area of just under 500 square kilometres.
According to the British weekly Economist, the city is the most expensive in the world, displacing Tokyo from that spot in 2006. After all, Oslo also means "Plain of the Gods."
It will be much cheaper if you board the hire car to explore the city's surroundings. We've put together a few tips for renting and traveling.
Receiving the hire car
Many rental agencies can be found on the west side of the arrivals hall. Before renting the car, however, you should make sure that your rental company is there.
Because there are also providers whose station is only near the airport. If you book there, you must first wait at the airport for a shuttle to take you to the station. And that costs valuable travel time.
Finding the right hire car
Medium-sized cars are the right choice for Norway, as the roads are long and a long drive can be punishing in a small car. However, the car shouldn't be too big either, as the roads can be quite narrow and winding, especially in the mountains.
Hire car prices
Hire car rates in Oslo are not cheap. You can usually get the best deals if you book well in advance of your trip. To do this, simply use our convenient price comparison tool.
hire car price comparison Oslo
Insurance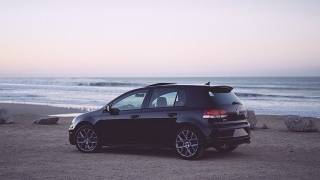 Narrow roads, numerous switchbacks and frequent deer crossing make it easy to have an accident in Norway.
Cover yourself as best you can and take out comprehensive insurance with no excess. For third party liability, make sure that the sum insured is at least 1 million euros.
If an accident results in personal injury or a pile-up, it can get expensive very quickly.
age limit
Many rental companies only rent to drivers who are at least 19 years old. And some charge extra for drivers under 25. It's best to find out the terms before renting the car.
Accessories
If you need accessories such as snow chains or a navigation device, you should check with your rental company in good time to see if they have these in their range. In addition, you should make reservations well in advance to ensure that the items you need will be there when you pick up your hire car.
Language barrier
You don't have to worry about language difficulties in Oslo. Most Norwegians speak excellent English.
Free kilometers
If you want to explore more than just the immediate surroundings of Oslo, you should book a car with free kilometres. Then you do not have to constantly keep an eye on the mileage display of the car during the trip, but can enjoy the ride carefree.
Remember the tank regulation
Choose a rental company where you can pick up the car with a full tank and return it with a full tank. This is transparent for all parties involved and saves you additional costs.
Customer Review Hire Car
Most of the customers are very pleased with the hire car stations in Oslo. When picking up the vehicle, you should only look for possible dents and scratches and have them confirmed in writing in an error log. This way, you avoid being held liable for damage you didn't even commit when you return the car.
Safety vehicles
There are usually no complaints about vehicle safety either. Nevertheless, you should test the car's lights before your first drive. Also remember to check the turn signals and the brake light. And while you're still in the rental company's parking lot, do a little brake test with your car.
Bail
When renting a hire car, a deposit is always required as well. Most rental companies simply block the amount on your credit card. But there are also providers who actually debit the amount and transfer it back after you return the vehicle. And this can take some time. It's best to inquire about the terms before you rent.
Sights in Oslo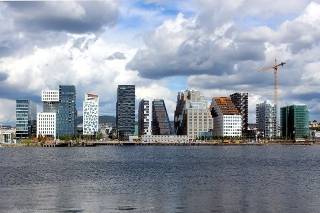 Akershus: Impressive fortress
The city of Oslo looks back on more than 1000 years of eventful history, which has left numerous traces.
A particularly impressive relic of this is Akershus Fortress on the east side of the fjord.
Originally built in the 13th century, the fortress was rebuilt around 1600 in the style of a Renaissance castle. Today, the south wing of the building houses the crypt of Norwegian kings in modern times.
Gamelebyen: Picturesque wooden houses
The city centre of Oslo was restructured in the Renaissance spirit with clean lines and shapes after a fire in the 17th century.
Excepted from the reconstruction was the Gamelebyen district, which was inhabited mainly by the poorer population despite a ban by the king. Today, the neighbourhood with its numerous wooden houses is a tourist attraction of Oslo.
City Hall: landmark of the city
Besides the world's oldest ski jump on Oslo's Holmenkollen mountain, which was the site of the 1952 Winter Olympics and is still the mecca of Nordic skiing, the city hall in particular is considered a landmark of the city and Norway's independence.
Annually, the Nobel Peace Prize is awarded in the imposing building, which is a mix of national romantic functionalism and classicism.
Suggestion for a round trip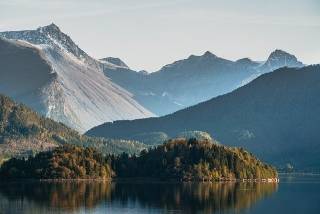 Hamar: Experience the history
Hamar makes a great first stop on a round trip.
You can be there in just under two hours. In Hamar, you can delve deep into Norway's past at the Hedmark Open Air Museum.
70 historical buildings want to be discovered here. In addition, you will also find bathing opportunities here which, however, are only recommended for hardy people.
The Norwegian lakes are quite fresh even in high summer. From 20 May to 20 June, the museum is open from Tuesday to Sunday from 10:00 to 16:00.
From June 23 to August 10, you can visit the museum daily from 10:00 am to 5:00 pm. From August 12 to September 1, it will be open Tuesday through Sunday from 10:00 am to 4:00 pm.
The same hours will be in effect September 6-7 and September 13-14. After that, the season is closed. Admission costs 100 Norwegian kroner.
Lillehammer: Adventures in roller bobsled
Next stop on the trip could be Lillehammer. From Hamar you need only a little less than an hour. Here, too, Maihaugen, an open-air museum awaits you that even combines 185 historical buildings under the open sky.
Or perhaps you'd prefer to simply stroll through the charming pedestrian street Storgate and stock up on souvenirs in the numerous shops. To round off your visit, you can then take a look at the Olympic Park. After all, Lillehammer hosted the 1994 Winter Olympics.
A number of attractions await you at the Olympic Park, such as a ride on a wheel bobsled, which will have you hurtling downhill at over 100 km/h. The attractions of the Olympic Park are open at different times depending on the weather.
For more detailed information, visit http://www.olympiaparken.no.
Elverum: Capital of the Woods
Now before you steer your hire car back to Oslo, don't miss making a stop in Elverum. You'll be there in just over an hour.
This town with its 14,000 inhabitants quite rightly bears the title "Capital of the Forests". From Elverum you can go on wonderful hikes or leisurely put your fishing rod in the water.
The tourist information office has good maps and also sells fishing permits.
A scenic drive of just under two hours now lies ahead before you can park the hire car back in Oslo and reflect on the day.
conclusion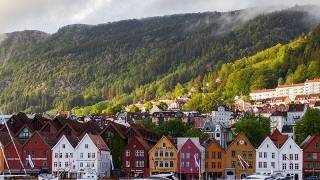 Oslo and its surroundings are worth exploring. Since the distance between the individual places is quite far, a hire car is the ideal travel vehicle.
And with our handy price comparison you will always find a good deal.