Exploring Norway by Hire Car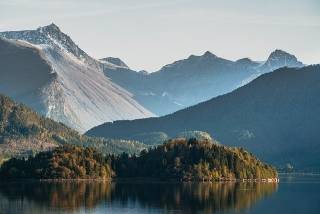 The landscape is vast, wild and lonely. The roads are well maintained. Drivers are considerate. Traffic outside the cities flows quietly.
It is a pleasure to explore Norway by hire car. For rental and travel we have put together a few tips for you.
Take over the car
Most travelers in Norway arrive at the airport in Oslo. There you will find numerous rental stations on the west side of the terminal.
Just make sure before you rent the car that your rental station is also there. Because if your rental is just near the airport, it can sometimes take a long time for a shuttle to get you there.
Booking the right hire car
The best way to explore the wide open spaces of Norway is to go for a compact car. It's more comfortable than a very small car but still manoeuvrable enough to negotiate the numerous switchbacks in the mountains with ease.
Insuring the car properly
In the harsh nature of Norway, you have to expect game crossing at any time. An accident can happen quickly. Book a hire car with fully comprehensive insurance without excess to be well covered in the event of damage.
And make sure that the liability sum insured is at least one million euros. If people are injured in an accident or several vehicles are involved, it quickly becomes very expensive.
If the sum insured of your rental company seems to be too low, you can take out a so-called Mallorca policy for further protection. Get advice from your insurance company.
Hire car prices
Renting a car in Norway is an expensive pleasure. You can often get the cheapest deals in Oslo. If you book well in advance and use our handy price comparison, you stand a good chance of getting a hire car at a relatively cheap price.
hire car price comparison Norway
age limit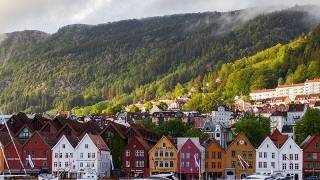 You must be at least 19 years old to get a hire car in Norway. And drivers younger than 25 are often charged an additional fee.
Be sure to check the terms and conditions of your rental company before renting the car.
Accessories
In vast Norway, a navigation device can make your journey much more enjoyable. A friendly voice will point the way and give you the opportunity to enjoy the scenery at your leisure without having to keep squinting at the map.
Navigation device and other accessories must always be ordered separately from your rental company. Make your reservation in good time so that the equipment you want is available on the day you pick up your car.
Bail
Only book with rental companies that only block the deposit due on your credit card. After all, if the amount is actually collected, it can sometimes take a long time for the money to be transferred back into your account. And make sure your card's credit limit is sufficient to pay the deposit.
Customer Satisfaction Hire Car
Although most customers are satisfied with rental stations in Norway, some do complain about the external condition of some vehicles. Always get dents and scratches confirmed in writing when you pick up the car. This way you can prove that you are not responsible for the damage when you return the car.
Safety Hire Car
In Norway, you can almost always expect to get a safe hire car. Nevertheless, you should test your car's lights before your first drive. Don't forget your turn signals and brake lights, too.
And do a little brake test with the car, of course only if there is no other car behind you at the moment.
Traffic rules Norway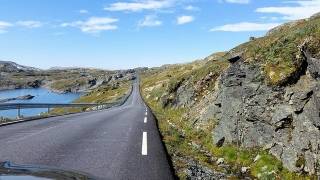 General:
Norway has a superbly developed road network with over 90,000 kilometres of road, of which 71,185 are paved. Many roads are very winding and steep.
Downhill cars always have the right of way. Upbound traffic has to swerve into parking bays if necessary, if the road is a single lane.
It is also driven with dipped headlights even during the day. Wildlife often linger at the end of a tunnel because of the heat.
This is where caution is urgently needed. Likewise with the sign "Kjor Sakte!", which translates as "Drive slowly".
Driving license:
An international driving license is not required.
Promille limit:
The 0.2 promille limit applies everywhere in Norway.
Fine:
Alcohol driving: from 620 euros
Speeding: from 395 euros
Telling without a hands-free device: 150 euros
Red light: from 640 euros
Overtaking ban disregarded: from 640 euros
Parking ban: 90 euros
Other:
Similar traffic rules apply as everywhere in Europe. Speed limits are 50 km/h in cities and 80 km/h is allowed on rural roads. The limit on motorways is 90 km/h. Telephone calls are only allowed with a suitable hands-free device. Metered parking applies within "blue zones".
Tolls are charged for the use of individual roads, bridges, in some tunnels and cities in Norway. High visibility vests have been compulsory in Norway since March 2007.
Suggestion for a trip by hire car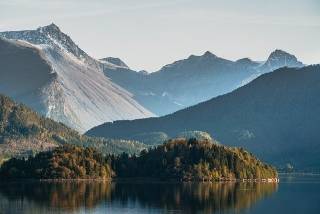 Oslo: Exciting metropolis and lots of culture
The journey begins in the capital of Norway. Oslo offers the traveller exciting big city life, but also comes up with many cultural highlights.
Start your city tour at the Cathedral Church. It was consecrated in 1647 and restored in 1950. Visitors are particularly charmed by the colourful windows inside and the richly decorated portal. Continue on to the National Gallery.
Here you can see Norway's largest art collection. The next item on the agenda could be the opera.
The building opened in 2008 and is considered one of the most spectacular opera houses in the world. Now you can go strolling. Browse through one of the numerous boutiques, sit down in a street café, stroll through unknown alleys. This is the only way to get to know the real Oslo.
Bergen: Dreamlike drive to Norway's most beautiful city
The next day you have a long drive of almost seven hours ahead of you. The route leads across Norway's south to Bergen. You'll pass through spectacular mountainous terrain and should plan on making several stops along the way.
The natural beauty of Norway is stunning. Bergen is a charming city, the second largest and also the most beautiful in Norway. However, don't forget your umbrella when visiting the city: it rains here on an average of 280 days a year.
Start your round on the local mountain, Fløyen. From the top, you'll have a fantastic view over the city and the fjord. Don't worry, you won't have to face an arduous climb. A funicular will take you comfortably to the top.
After that, your path should take you to Bryggen. Here there are 280 wooden Hanseatic houses to see. They were faithfully restored to their original state after a major fire in 1702 and are now a UNESCO World Heritage Site. A visit to the fish market is also a must. Here you can stock up on crab claws and smoked fish for the rest of your trip.
Florø – Small town with many attractions
Continue your journey north. Florø. Again, allow over seven hours driving time for this tour. The westernmost town in Norway is the final destination of this road trip. Although Florø has only 12,000 inhabitants, the town makes a lively impression. Worth a visit is Kystmuseeet, the coastal museum.
Here visitors can admire a 200-year-old yacht. Anglers will also be happy in Florø. A number of operators offer fishing trips. The providers know where rich fish stocks can be found, so you are very likely to make a catch. Fishing in the fjord does not require an additional permit.
You can even go diving in Florø. In the shallow waters of the coast there are numerous shipwrecks that want to be discovered. In the evening you can enjoy excellent fish specialities in a good restaurant. While you wait for your meal, you will have plenty of time to plan the next stops on your road trip in Norway.
Conclusion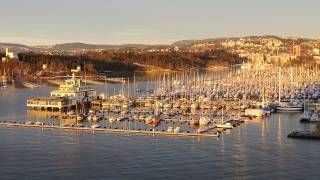 The vastness of Norway is wonderful to experience by hire car. However, you should bring time for the trip.
The distances between the individual destinations are often very large. With our price comparison you will always find a good car at relatively cheap conditions.