Touring Namibia by hire car
Those wishing to tour sparsely populated Namibia should opt for a hire car as their mode of transport.
So you are not only flexible, but also comes the easiest and safest from one place to another.
Namibia has no public transport network worth mentioning. Instead, the country is crisscrossed by several tens of thousands of kilometers of road, which are called "pads" here, and which are best explored by hire car. For renting and driving we have compiled a few tips.
Taking the right hire car
The best way to get around Namibia is with an off-road vehicle. But beware: if you are travelling in Namibia with a hire car, it is not uncommon to face a particular challenge.
Many hire car companies make it a requirement for their customers to drive the rented car exclusively on "paved roads". However, the term "paved road" is very malleable in Namibia, as there are only around 5,000 kilometres of tarred roads in the country.
The remaining 40,000 kilometres are gravel or sand roads.Especially near the Atlantic Ocean, one often encounters roads that are merely gritted with sand. So with this in mind, it is not always easy for tourists to classify the status of a road.
Look for road signs
If you are unsure which roads you are allowed to drive on, you should speak to the local rental company when you pick up your hire car. Beyond that, however, there are some generally applicable guidelines as to which roads are passable by hire car and which are not.
As a rule of thumb:All roads that are maintained by the state are considered "paved roads" and may therefore also be driven with the hire car. Also so-called "Gravel Roads", thus gravel roads, belong to it.
That a road belongs to the state-maintained roads in the country, one recognizes first by the number.Only state-maintained roads carry a numbering.This is also clearly indicated on the road maps of Namibia.
In addition, traffic signs and speed limits are a clear indication that the road is official and therefore permitted for hire cars. Since the state-owned gravel roads are usually in pretty good condition, an off-road vehicle is not absolutely necessary for a drive through Namibia, but it is advisable.
At some prominent points, such as the Kaokoveld or Kaudom National Park, an off-road vehicle is an absolute must. Dune sands or riverbeds should also only be negotiated with four-wheel drive.
Insuring the car properly
Unpaved roads and frequent game drives increase the risk of accidents on Namibia's roads. Always reserve a car with fully comprehensive insurance without excess. When it comes to third party liability, you should always pay attention to the coverage amount.
It should be at least one million euros so that you have at least some protection if people are injured in an accident or several vehicles are involved.
If your rental company's coverage does not seem sufficient, you have the option to provide additional protection with a so-called traveller policy. Talk to your insurance company and make sure that the policy also covers you in Namibia.
Hire car prices
The hire car prices in Namibia are quite high. Therefore, you better think very carefully about the days on which you need a hire car. It might be cheaper for you to hire car twice and return the car on the days you don't want to travel.
You can always find great deals with our handy price comparison tool. Note that with some rental companies you need two credit cards for cars of a certain category.
hire car price comparison Namibia
age limit

Drivers younger than 23 are often charged an additional fee. Some rental companies do not rent cars to drivers younger than 21. Check your rental company's terms and conditions before booking.
Accessories
In sparsely populated Namibia, you will be glad to have a sat nav to give you the reassuring feeling that you are on the right track. You will always have to order accessories such as sat nav or even child seats separately. Make your reservations well in advance to ensure that the items you want are available on the day of hire.
Free kilometers
To fully experience the beauty of Namibia, you will travel countless kilometres by hire car. So always book in vehicle where all kilometres are free
Remember the tank regulation
Only rent from rental companies where you pick up the car with a full tank and return it with a full tank. This is the most transparent solution for all parties involved.
Bail
If you rent from a rental company that actually charges the deposit due to your credit card, you may have to wait longer for the money to be transferred back after you return the vehicle.
You'll fare better if you book the hire car with a rental company that just blocks the amount. Make sure your credit card's credit limit is high enough to cover the deposit.
Customer Satisfaction Hire Car
Most customers are satisfied with the rental companies in Namibia. Some complain that they were tried to sell them unnecessary additional insurance. Be sure to adequately insure your car right at the time of booking and then refuse to take out any additional insurance on the spot.
Some customers also complain about long waiting times at hire car stations. So plan an appropriate time cushion.
Safety hire car
Although most hire cars in Namibia are quite roadworthy, you should test your vehicle's lights and the condition of its tires before your first trip.
Also, do a little brake test at the rental company's parking lot.
What drivers need to watch out for in Namibia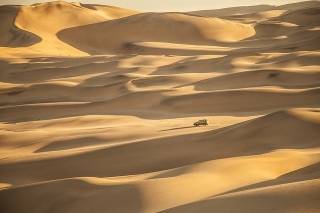 Think about left-hand traffic
Whoever drives a car in Namibia should familiarize themselves with some peculiarities beforehand.
Most importantly: Namibia has left-hand traffic. Information on this topic can be found in our special.
First come, first served
The so-called "four-way stop intersections" also take some getting used to. Here, it's not right before left. Instead, the rule is: whoever is first at the intersection also goes first, then the second and so on. When in doubt, it's best to communicate by hand signal.
Warning about corrugated iron
Another problem that drivers in Namibia have to expect are the so-called "corrugated iron roads". These are roads that have transverse grooves five to ten centimetres deep, which can also be quite common on state roads.
Only flying is more beautiful
The best way to get these stretches over with as little accident as possible is to "fly" over the road. When doing so, you should drive as fast as possible; the optimal speed for such slopes is around 80 km/h.
This way, the wheels don't take every transverse groove in their stride. Caution is advised in curves, because at such a speed the wheels not infrequently lose traction.
Traffic Rules Namibia

General:
Namibia has a comprehensive road network that provides good access to all major parts of the country. 5,000 out of a total of 65,000 route kilometres are paved, mainly in inner-city areas and on national roads.
The majority are natural tracks, known as pads. Already during the dusk, the light is to be switched on.
This also applies to very dusty roads. Petrol stations are all attended and do not accept credit cards. In Namibia there is left-hand traffic. In roundabouts, "right before left" must be observed.
Driving licence:
An international driving licence is not absolutely necessary but useful for police checks. Alternatively, the "normal" driver's license is also accepted, provided that an official English translation is carried
Promille limit:
The 0.5 promille limit applies in Namibia.
Fines:
Fines vary widely. A fine can be imposed for all sorts of traffic offences, but dedicated roadblocks are set up for alcohol, speed and driving licence checks. Parking must always be on the passenger side in the direction of travel.
Other:
Similar traffic rules apply as in Europe. Speed limits are 60 km/h in cities and 80 km/h is allowed on rural roads. The limit on motorways is 120 km/h. Telephoning without a hands-free system is not allowed.
Suggestion of a round trip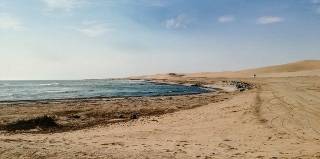 Ugab Terraces: Fascinating Landscape
A round trip hire car could take you to the Ugab Terraces first.
It will take you five and a half hours by hire car from Windhoek. A dreamlike semi-desert landscape with bizarre rock formations awaits you.
Etosha National Park: Enjoy the wilderness
Continue your journey to Etosha National Park. In less than three hours you will be there. Etosha National Park is home to countless animals. With a little luck you can see there lions, zebras, wildebeests, elephants, rhinos, leopards or antelopes.
Diverse camps offer you overnight accommodation in the park. And you can also stay in style near the park entrances. The Etosha Safari Camp is particularly recommended. You will stay in spacious bungalows which are stylishly furnished with typical Namibian furniture. After a restful night, another five and a half hours drive separates you from Windhoek, where you can plan your next excursions by hire car.