Renting an off-road vehicle: Tips and Tricks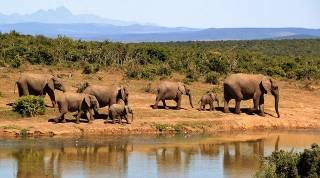 In most travel countries, the renter is well served by a conventional vehicle. The road network is reasonably developed and the driver will normally not leave the paved roads.
But there are countries, such as Iceland or Namibia, where conventional roads can turn into dirt tracks. And here, an off-road vehicle should already be booked to get to your destination safely.
However, even the most off-road capable vehicle is of little use if the driver is unable to operate the car properly. We've put together a few tips for you.
The two gear sticks
Unlike conventional vehicles, you can expect two gear sticks in your SUV. The one you operate as usual to change gears. The smaller lever is what's known as the off-road gear reduction.
In modern off-road vehicles, the off-road reduction is also often activated by pressing a button. It provides more torque at low speeds.
Compared to conventional on-road operation, an off-road vehicle with the off-road reduction engaged has more than twice as much power at half the speed. This allows it to tackle inclines where a conventional vehicle would fail.
Some off-road vehicles can even manage a gradient of 100%, equivalent to 45°.
The differential lock
Another aid to off-road vehicles that conventional vehicles do not have is what is known as a differential lock.
Simplified, it ensures that exactly the tire that has traction at the moment moves, while other wheels are already spinning. This can be a lifesaver off-road.
The winds
When nothing works at all, many off-road vehicles are also equipped with a winch. The rope can be attached to a fixed object, such as a tree trunk, and then pulls the off-road vehicle out of the mess.
The ground clearance
Once the car is on the ground, most of the time nothing works. If you are travelling with a passenger, one of them should always get out and check that there is still enough space between the ground and the vehicle.
If you are travelling alone, you will always have to stop and do this job yourself if in doubt.
What counts is training
Off-road novices will fail even with the best off-road vehicle in the wild.
Before you move your hire car through exotic travel countries with unsecured roads, you should undergo special training for off-road vehicles. Then you can enjoy the ride to the fullest.
Exact briefing
When you take over the hire car, you should have all the functions explained to you in detail by your rental company, and preferably even demonstrated. Then you don't have to study sometimes incomprehensible operating instructions while driving.
Clarify insurance coverage
Clear before the trip very exactly, with your rental company, which slopes you are allowed to drive on. Have this permission confirmed in writing. Only in this way are you on the safe side in the event of damage.
Defensive driving
Don't overestimate yourself. If a dirt road seems impassable, don't even try. After all, few things are more unpleasant than getting stuck in a hire car in rough country, with no cell phone service. After all, it could be a long time before the next vehicle comes along.
hire car price comparison