Exploring Australia by Hire Car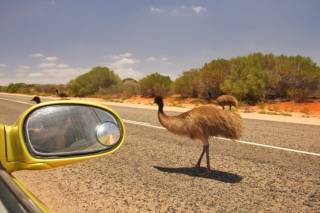 The vast landscape of Australia is excellent to explore by hire car. In large parts of the country, the road network is well developed, so that numerous worthwhile destinations can be reached easily by car.
For the hire car and the trip we have compiled a few tips.
Taking over the hire car
Sydney or Melbourne are the names of the airports where most Australian travellers arrive. In Sydney, you will find numerous rental agencies in the arrivals area of both terminals. In Melbourne, you'll find rentals on the ground floor of the short-term parking garage.
You should just make sure that your rental company is also located directly at the airport. Otherwise, you might have to wait forever for a shuttle to take you to the hire car station after a long flight.
Choosing the right car
The roads in Australia are long. To enjoy long drives in a relaxed manner, you should opt for a large and comfortable car. If you also want to drive on the unpaved roads in the outback, you should choose a vehicle with four-wheel drive. The best way to master the unfamiliar left-hand traffic is to book a car with automatic transmission. Then you can fully concentrate on the traffic.
You can find more info on driving with automatic transmission in our special.
Insuring the car properly
To be well covered in the event of an accident, you should book a car with fully comprehensive cover with no excess. To ensure that you have some protection in the event of an accident involving personal injury or multiple vehicles, it is important to make sure that your third party liability cover is at least one million euros.
If the coverage amount of your lender seems too low, you have the chance to provide further protection with a so-called traveller policy. Talk to your insurance agent.
Hire car prices
Hire car prices in Australia are in the mid-range. However, the price differences between a small car and a family car are often very small, so you can go for a larger car. You can usually get the cheapest prices by booking well in advance of your trip and using our handy price comparison tool.
hire car price comparison Australia
Insuring the car properly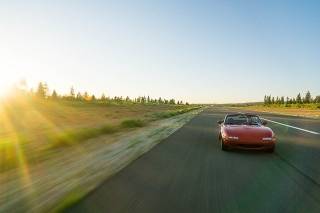 Wild changes and the unusual left-hand traffic in Australia ensure that an accident can happen quickly. You are well insured if you have booked a hire car with comprehensive insurance without excess. With liability insurance, you should always pay attention to the amount of coverage. It should be at least one million euros.
Because you can face high costs if someone is injured in an accident or if several vehicles are involved. If the coverage amount of your rental company seems too low, you can provide further protection with a so-called traveller policy. Your insurance agent will be happy to advise you.
age limit
Many hire car companies will not rent cars to drivers under 21. And drivers under 25 are often charged an additional fee. And seniors over 75 are sometimes not rented a vehicle either. It's best to inquire about your rental company's terms before making a reservation.
Accessories
In the vastness of the Australian outback, you will be glad to have a navigation device to make you feel not completely cut off from the outside world. You always have to order this and other accessories separately from your rental company. Make sure you book well in advance so that the alignment you want is actually available at your station on the day of your rental.
Free kilometers
I'm sure you didn't take the long plane ride just to explore one Australian city and the next. If you only want to see a tiny part of the country, you'll be covering countless miles in a hire car. So always book a car with all the miles free.
Tank control
Only book with rental companies where you pick up the car with a full tank of gas and return it with a full tank. This is the most transparent solution for everyone.
Bail
Make sure you book with a rental company that only blocks the deposit due on your credit card and does not actually retain it. Then you won't have to wait for the money to be transferred back after you return the car. Before taking delivery of the car, make sure that your card's credit line is sufficient to cover the deposit.
Customer Satisfaction Hire Car
Most customers are satisfied with the rental companies in Australia. However, some complain about long waiting times. Plan enough time especially for returning the car so that you don't miss your plane.Also clarify the opening hours of your hire car station so that you don't face closed doors when returning the car.
Some customers also complain that defects in the vehicle were not recorded by the hire car stations. Be sure to have all damage, such as dents or scratches, confirmed in writing in a defect report. Only in this way can you prove that it was not you but one of the previous tenants who caused damage to the vehicle.
Safety hire car
Although you can usually expect to get a safe hire car in Australia, you should still test all the car's lights before your first drive. Don't forget the brake light and turn signals, too. And do a quick brake test in the parking lot of your rental company.
Traffic Rules Australia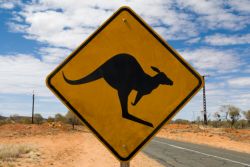 General:
On Australia's roads, safety first. One rather lets the traffic pass than to insist on his right. Also, all drivers are extremely helpful to each other. Speed limits must be scrupulously adhered to, there is no tolerance.
Driving license:
An international driving license is required.
Promille limit:
All over Australia, the 0.5 promille limit applies.
Fines:
Fines are hefty, sometimes running $200 and up.
Other:
You should also urgently look out for signs prohibiting fruit takeaway. The point is to prevent fruit fly infestations. Intensive inspections are taking place in the affected areas, and offenses are punishable by a minimum of $200. Alcoholic beverages may under no circumstances be taken into Aboriginal areas. Here the penalties are even 1000 dollars.
Otherwise, similar traffic rules apply as in Europe, inside the city 50 to 60 km / h and outside 100 km / h may be driven. On some highways even 110 km/h. Very important: In Australia, left-hand traffic prevails!
Suggestion of a hire car trip
Darwin: Gateway to Asia
The Australian journey begins in Darwin. Often referred to as the gateway to Asia, the city has a tropical feel. Only in June and July can it get below 20°C. But even then, temperatures of over 30°C are measured during the day. So make sure that your hire car has air conditioning.
The Darwin Botanical Gardens in particular are well worth a visit. A monsoon forest and a tropical rainforest have been created here.
Florence Falls: Refreshing waterfalls in breathtaking nature
Florence Falls is the name of the next destination on the tour. They are located a little over 120 km away from Darwin in the Litchfield National Park and can be reached in two and a half hours. The waterfalls are located in a dreamlike environment and invite you to swim.
Just make sure there are no crocodiles around. They are not that common in this region, but in 2008 there was an attack on humans.
Pine Creek – Experience Gold Fever
Continue your journey in just under three hours to Pine Creek. Only a little over 250 residents live in this little town. However, the population fluctuates tremendously as gold is always being found. That's when the fortune seekers arrive in droves.
Until just a few years ago, Pine Creek was a major gold-mining town. Stroll the streets and feel transported back to the days of the great gold rush.
Nitmiluk National Park: canoe tour through pristine wilderness
After the small town comes wild nature. The Nitmiluk National Park, impresses visitors with 13 spectacular gorges lined with cliffs up to 70 meters high. By hire car, the trip will take you just under two hours.
Nitmiluk National Park: canoe trip through untouched wilderness
After the small town comes wild nature. The Nitmiluk National Park, impresses visitors with 13 spectacular gorges lined with cliffs up to 70 meters high. By hire car, the trip will take you just under two hours. Rent a canoe and explore the park on your own. The only time to avoid the park is during the rainy season. Then the quiet rivers of the park turn into raging floods.
Australian animals in the wild
The road trip concludes with a visit to Kakadu National Park, which you will reach in two and a half hours. A unique flora and fauna awaits the visitor. See kangaroos, wallabies and dingoes in the wild. And watch out for crocodiles. The saltwater crocodiles that live here can grow up to six metres tall. The freshwater crocodiles, which are also native here, "only" make it to three metres.
If the park looks familiar, you've probably seen the blockbuster "Crocodile Dundee." Paul Hogan fought crocodiles here and captured the heart of Linda Kozlowski: so you can relive at least part of that road trip at home in front of the TV.
Conclusion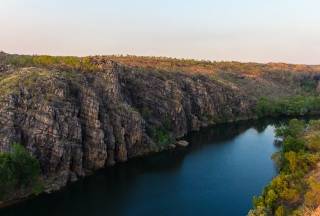 Australia is great to discover by hire car. However, you should allow enough time for the trip, as the individual destinations are often very far apart. With our handy price comparison, you will always find a comfortable car at a great price.